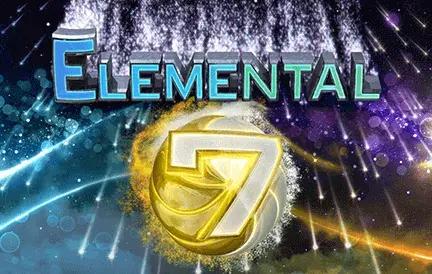 Unleash the power of nature's core elements with Elemental 7, a visually stunning offering available at Red Dog Casino. This slot machine skillfully fuses the might and mystique of earth, water, fire, air, and ether, providing players with an immersive journey through nature's most profound forces.
From the outset, Elemental 7 enchants players with its breathtaking visuals. The backdrop sets a vibrant scene where the elements come alive, dancing and interweaving in a spectacle of color and energy. The reel symbols, represented by crystalline formations of each element, not only stand out for their design but also pulse with ethereal energy, making every spin a captivating visual delight.
But Elemental 7's prowess goes beyond mere aesthetics. This slot machine boasts gameplay mechanics that resonate perfectly with its theme. Harness the might of the Double Direction payline feature, where winnings can be achieved from left-to-right and right-to-left, mirroring the fluidity and unpredictability of nature itself.
Key Features:
Double Direction Paylines: A unique feature offering more ways to win.
Vivid Visuals: Dive deep into a world where the core elements come alive.
Elemental Engagements: Engage in bonus rounds and features imbued with nature's power.
In summary, Elemental 7 at Red Dog Casino is a tour de force in slot gaming, blending stunning visuals with innovative gameplay. It stands as a testament to the allure and might of the world's core elements, and how they can be harnessed for entertainment. For those seeking an otherworldly gaming experience, where the raw power of nature meets the thrill of the spin, Elemental 7 is the ideal choice. Dive in, feel the energy, and let the elements guide your fortune!