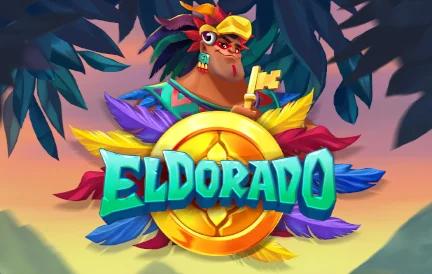 Welcome El Dorado by Dicelab! Journey back in time to the era of ancient Mesoamerica, where myths blend with reality and fortunes await the daring. With 25 paylines and a range of extra features, this meticulously crafted 5x3 slot game ensures every spin is loaded with adrenaline and potential for big wins.
With each reel rotation, you're not merely playing a game but embarking on a quest to unravel the mysteries of the legendary city of gold and bask in its radiant glory. Intricate symbols inspired by age-old artifacts guide your path, while rich narratives breathe life into your adventure.
Remember, fortunes favor the brave in the sprawling landscapes of El Dorado slots. So, set your stakes, align those symbols, and let the epic tale of a lost city unfold before your eyes! Curious to learn more? Read our El Dorado slot review through and be fully geared up! 
Main Theme & Design 
The game doesn't just offer a chance to win but a whole experience. Its sharp and detailed graphics serve as a testament to how much effort has been put into its creation. The animations add depth and motion to every play, from spinning reels to cascading wins. Every movement on the screen is smooth, ensuring your gameplay remains lively and engaging.
Speaking of color choice, it is a standout feature in this slot machine. With a harmonious blend of earthy tones and the brilliant glint of gold, it's evident that the palette was chosen to pay homage to the rich Mesoamerican culture. The authenticity it brings to the table makes the experience all the more immersive.
The setting plays a key role in drawing players in as well. The background boasts a beautifully rendered temple fragment set against a tranquil mountain landscape, adding more depth and context to the game. The native, standing left to the reels, also adds a playful touch as he challenges players with his sneaky gaze, making each spin a fun, interactive contest. Lastly, a beautiful ethnic soundtrack will accompany your journey, but mute your browser tab if you're a fan of quiet and concentrated play. 
Inner Mechanics & Special Extras
While the basic mechanics of El Dorado remain typical for DiceLab slots, the special extras truly magnetize players. 
Wild Symbol: Substitutes for all other symbols, creating more winning combinations. 
Free Games feature: This is what really stands out, as this feature has several levels inside of it. The petrified symbols break the stone and collapse every time a win is formed. The more collapses happen during a single spin, the more Free Games the player gets. Moreover, triggering the feature also grants a prize, which can be retriggered unlimited times. In a scenario where more than 9 collapses occur during a single spin, you are awarded an x200 total bet prize, and the El Dorado Secrets feature is triggered. 
El Dorado Secrets feature: Choose between achieving 50 Free Games with a generous x25 all-winning multiplier or playing El Dorado's Mysterious Riches Game with tons of valuable awards! 
El Dorado's Mysterious Riches Game: Have a chance to win cash prizes of up to x2500 total bets! Nine mysterious doors to the legendary city of El Dorado hide glittering riches, and you have five keys to open them. What awaits you behind are x50, x100, x150, x200, x250, x300, and x500 total bet prizes! 
FAQ 
Can I play El Dorado without making deposits? 
For sure! If you want to play El Dorado online slot for free, you can dive into the demo mode and enjoy it for fun. Here, you can familiarize yourself with its inner workings and indulge in risk-free gameplay. Once you've got familiar and feel the desire for a bigger thrill, transition to playing El Dorado for real money and delight in advanced gameplay! 
Is El Dorado mobile-friendly?
Absolutely, you're all set to dive into El Dorado at Red Dog Casino on your smartphone! Our optimized mobile platform lets you enjoy the game's adventure anytime, anywhere. So, whether you're lounging at home or on the move, the treasures of El Dorado are just a touch away! 
Is Red Dog Casino safe? 
At Red Dog Casino, your safety is our top priority. That's why we employ cutting-edge technologies and robust security measures to safeguard your personal information and ensure a reliable and secure gaming environment. You can focus on the fun when you play with us, knowing you're in good hands. 
Final Word 
El Dorado offers players a golden opportunity to immerse themselves in the rich tapestry of Mesoamerican culture. With stellar graphics that vividly paint tales of ancient legends and animations that breathe life into every spin, it's clear that this game promises hours of entertainment. But it doesn't stop at aesthetics. The gameplay is engaging and rewarding, ensuring novice and seasoned slot enthusiasts find their groove. Happy spinning!