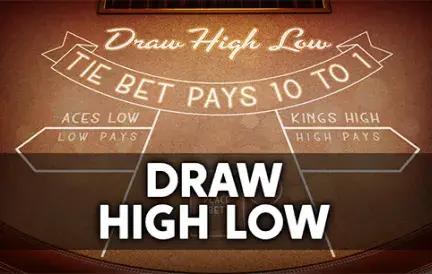 At first glance, Draw Hi-Lo might seem like a simple card guessing game, but delve deeper and you'll find it's packed with nuances and excitement. Offered by the top-tier software provider Nucleus, this game is a must-try for anyone who enjoys a blend of skill, strategy, and a hint of luck.
The primary objective of Draw Hi-Lo is straightforward: players need to guess whether the next card drawn will be higher or lower than the one currently displayed. It's a fantastic game of anticipation that keeps players on their toes from start to finish.
Now, here's what makes it a standout:
- Graphics and Design: In typical Nucleus fashion, Draw Hi-Lo boasts impressive graphics, sleek animations, and an intuitive interface.
- Betting Options: Catering to both newbies and high-rollers, the game offers a range of betting options that can adapt to different bankroll sizes.
- Engaging Gameplay: Despite its apparent simplicity, Draw Hi-Lo requires a strategic mindset. The challenge of predicting the card keeps players engrossed for hours.
Key Features to Note:
1. The Tie Option: In case of a tie, players neither win nor lose. This adds a layer of suspense and intrigue.
2. Swift Game Rounds: Perfect for those looking for quick gaming sessions.
3. Live Dealer Option: For a more immersive experience, some platforms, including Red Dog Casino, offer Draw Hi-Lo with a live dealer. This brings the atmosphere of a traditional casino right to players' screens.
In conclusion, Draw Hi-Lo is more than just a game of luck. It's about strategy, anticipation, and thrill. Whether you're new to online card games or a seasoned player, Draw Hi-Lo promises a gaming experience that is both refreshing and captivating. Don't miss out on this gem from Nucleus!