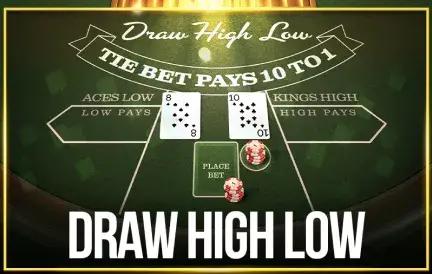 In the vast universe of casino games, few manage to blend simplicity with intense thrill as seamlessly as Draw Hi-Lo. Brought to life by the innovative team at Betsoft, this game challenges players to predict the value of the upcoming card, ensuring every draw is filled with palpable excitement. And where better to experience this pulsating game than at Red Dog Casino, known for hosting the crème de la crème of online games.
Draw Hi-Lo stands out not just for its unique premise, but also for its impeccable design. Betsoft ensures the gaming environment feels both modern and intuitive, while the visuals are clean, allowing players to focus on their predictions.
Key attributes of Betsoft's Draw Hi-Lo:
Simple Gameplay: The rules are straightforward – predict if the next card is higher or lower.
Vibrant Design: The game aesthetics are crisp, with vivid colors enhancing the gaming experience.
Quick Turns: No long waits; the gameplay is swift, keeping the adrenaline rushing.
Transparent Mechanisms: With clear card shuffling and honest draws, fairness is guaranteed.
Red Dog Casino, with its emphasis on player satisfaction, further enhances the Draw Hi-Lo experience. The game loads swiftly on the platform, and the seamless integration ensures no lag or glitches interrupt the thrilling predictions.
Wrapping it up, Draw Hi-Lo by Betsoft is a testament to the fact that a game needn't be complex to be gripping. It takes the simple premise of card predictions and elevates it to a level where every draw feels like a major event. And when played on a reputable platform like Red Dog Casino, players can be assured of a fair, secure, and exhilarating gaming experience. So, if predicting the future has always been your forte, Draw Hi-Lo beckons you to test your skills and intuition.