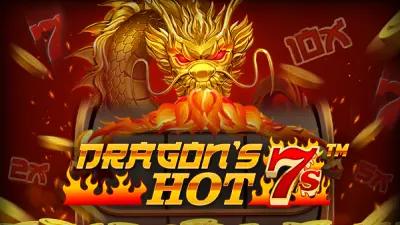 If you're yearning for the nostalgic charm of a classic slot machine but with a touch of enchantment, Dragon's Hot 7's by Dragon Gaming might be the perfect match for you. This slot machine combines simplicity with a captivating twist—a Chinese Dragon and mystical 7's that usher in luck and winning fortunes. But let's find out more about this game in our Dragon's Hot 7's slot review.  
Theme & Design   
Dragon's Hot 7's inly has 1 fixed payline. Three reels come to life with just a click of a button, unveiling potential winning combinations. 
On top of your virtual slot machine, you'll find a fiery dragon surrounded by tons of gold coins, watching you as you spin the reels, promising prosperity and good fortune. The game is complemented by a fitting soundtrack that immerses players in the ambiance of Chinese traditions.
Gameplay Features   
While Dragon's Hot 7's might seem straightforward with its single payline, the gameplay offers more than meets the eye. The focus lies on the hot 7's, and understanding their payouts is crucial: 
7 - 0.2x; 
77 - 0.5x; 
777 - 1x; 
7777 - 2x;
77777 - 5x; 
777777 - 10x; 
7777777 - 25x; 
77777777 - 50x; 
777777777 - 100x. 
Here are the other game features: 
Re-Spin Feature is triggered when 1 or 2 reels are empty. Players also have a chance to re-spin all empty reels for a second chance to win. However, users are not guaranteed to land another symbol. 
Multiplier Feature is triggered randomly, and the total win of the spin will be multiplied by a random Multiplier of 2x, 3x, 4x, 5x, or 10x. 
Winning the Game   
Although Dragon's Hot 7's boasts a straightforward gameplay structure with just one payline, the potential for substantial wins is not to be underestimated. With the Re-Spin and Random Multiplier Features, players can secure up to 1,000x their initial bet. 
Some general tips to enhance your gaming experience: 
bet wisely - set up an amount you're comfortable betting with and stick to it; 
always play for fun - while winning is exciting, remember to enjoy the experience itself; 
keep an eye on the main game features - Re-Spin and Multiplier features are your best friends if you want to win big.
FAQ   
Can I play Dragon's Hot 7's for real money?  
Yes, Dragon's Hot 7's at Red Dog Casino offers the option to play for real money, adding an extra layer of excitement for those seeking tangible rewards. 
Can I play Dragon's Hot 7's online slot for free? 
Certainly, Dragon's Hot 7's provides the option to enjoy the game for fun in a demo version, allowing players to test their skills and check the game before placing real bets. 
What devices can I use to play Dragon's Hot 7's slots? 
Dragon's Hot 7's at Red Dog Casino is designed to be accessible across various devices, including desktop computers, laptops, smartphones, and tablets. Whether you prefer the convenience of playing on your mobile device or the immersive experience on a larger screen, the game is fully responsive and optimized for a seamless and enjoyable gaming experience. 
Conclusion   
Combining the simplicity of classic slot machines with an enticing Chinese Dragon theme and magical 7s, Dragon's Hot 7's is a game that will fascinate every player. With the potential for significant wins through the Re-Spin and Multiplier Features, this game offers an engaging and rewarding experience. So, spin those reels and let the fiery dragon guide you to your fortune! Immerse yourself in the allure of Dragon's Hot 7's and embark on a thrilling journey where tradition meets modern excitement.