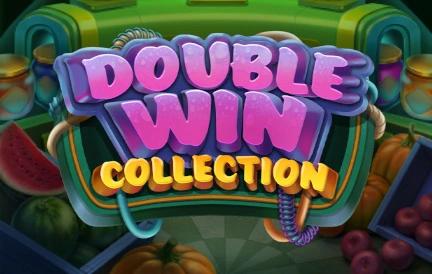 Ready to get your daily serving of fun? Double Win Collection by DiceLab invites you to a fruity extravaganza where wins are ripe for the picking! With playful berries and vibrant fruits adorning the reels, this slot game is a fresh twist on classic excitement. Each spin serves up a juicy chance to double your winnings, from oranges to watermelons. Prepare to be entertained by a garden of possibilities – take a bite out of this 3x3, 5-payline masterpiece and see what delicious rewards await! A more in-depth look is presented below, so stay tuned and learn all the essential info in our Double Win Collection slot review.
Theme Design
This delightful slot game celebrates life's vibrant and flavorful side with reel symbols that will make your mouth water: tangy oranges, zesty lemons, refreshing watermelons, sweet cherries, crisp apples, and more. The visuals are a fun fruit salad with a color palette bursting with the same lively hues in a fresh fruit bowl. It's a feast for the eyes, with each spin tossing a delightful blend of fruity colors across the screen.
But the fun doesn't stop there! The animations add a zest to the gameplay, turning each winning combination into a burst of fruity fun and injecting a lively spirit that keeps you entertained.
With a theme that's as fresh as a farmer's market and a design as appealing as a fruit punch on a hot summer's day, Double Win Collection slots offer a refreshing twist on traditional slot games.
Core Gameplay In-Game Extras
First up, let's explore the symbols and their worth. We'll start with the least valuable and work our way to the top.
| | | | | |
| --- | --- | --- | --- | --- |
| Symbol Name | X3 | X4 | X5 | X6 |
| Blueberry | $ 0.02 | $ 0.04 | $ 0.08 | $ 0.16 |
| Cherry | $ 0.04 | $ 0.08 | $ 0.16 | $ 0.32 |
| Plum | $ 0.07 | $ 0.14 | $ 0.28 | $ 0.56 |
| Pear | $ 0.10 | $ 0.20  | $ 0.40 | $ 0.80 |
| Watermelon | $ 0.15 | $ 0.30 | $ 0.60 | $ 1.20 |
| Orange | $ 0.20 | $ 0.40 | $ 0.80 | $ 1.60 |
| Lemon | $ 0.25 | $ 0.50 | $ 1.00 | $ 2.00 |
| Apple | $ 0.40 | $ 0.80 | $ 1.60 | $ 3.20 |
Speaking of in-game extras, while this slot machine doesn't boast many of them compared to other DiceLab fruit machines, a couple of things still aim to pack your pockets with cash!
Wild Symbol — the constant companion that substitutes for all other symbols to help you get more winning combinations. Sometimes, it can be a game-changer!
Bonus Wheel Feature — the Bonus Wheel is full of generous x3, x4, x6, x10, x15 money prizes, extra wheel spins, and the wheel upgrade option!
To trigger this feature, you must energize the scale to the left of the game reels. The scale fills with winning combos featuring double symbols. If you get lucky, you might double your cash prizes by hitting the upgraded sector. It grants one extra spin and gets replaced with an x50 total bet prize! Note that the upgrade section can only be triggered once per Bonus Wheel session.
FAQ
Can I play Double Win Collection at Red Dog Casino using my smartphone?
For sure! Our casino provides a fully responsive and adaptive mobile version that fits almost any Android or iOS-run device. It will match any screen size from smartphones to tablets, and provide an electrifying gambling experience.
What is the deposit range and RTP in Double Win Collection?
The deposit range lies between $0.05 to $100, and the RTP rate equals 96%.
Can I play Double Win Collection online slot for free?
Yes, certainly! You can play any slot game, including this one, just for fun, using the free demo version to test the surface and sharpen your technique. Then you can always switch to full mode and try your luck playing Double Win Collection for real money!
Conclusion
Double Win Collection is a delightful blend of flavorful, fun, and rewarding gameplay. The colorful array of fruity reel symbols, ranging from tangy oranges to succulent watermelons, creates a visual spectacle that's a feast for the eyes. Coupled with playful animations that add personality to each spin, the game captivates players with its lively energy.
Its strong sides aren't just in the visuals but extend to its user-friendly interface and engaging special features. These elements come together to provide an experience that's not only entertaining but also offers enticing opportunities to win.
Whether you're new to slots or a seasoned player looking for something fresh, Double Win Collection is a garden of gaming delights that will appeal to all tastes. Dive in and savor the sweet taste of victory as this fruit-filled mixture offers a gaming experience like no other!