Double Trouble Video Slot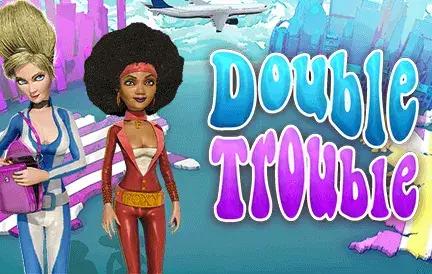 Welcome to the thrilling world of espionage, intrigue, and high-stakes payouts in Double Trouble, the latest offering for slot enthusiasts at Red Dog Casino. If you're a fan of retro spy movies and slot machines with an adventurous edge, then Double Trouble is tailor-made for your gaming pleasures.
Double Trouble immerses players into a 60s spy setting, oozing with style and attitude. The reels showcase suave agents, cunning villains, and a range of spy paraphernalia. This vibrant tapestry of imagery is set against a groovy backdrop, reminiscent of classic spy movie posters. The entire atmosphere is elevated with a jazz-infused soundtrack, ensuring every spin is charged with suspense and excitement.
Engage with the covert features of Double Trouble:
The 'Golden Gun' scatter symbols, unlocking high-voltage bonus rounds.
Wild symbols represented by a femme fatale, heightening the stakes with each appearance.
Free spins triggered by the dashing male spy, adding layers of thrilling pursuits.
The 'Undercover Bonus' game, challenging players to solve mysteries for grand rewards.
Navigating through this slot machine is as smooth as a spy's maneuver. The user-friendly interface ensures both novices and seasoned players can slip into the world of espionage seamlessly. And with its competitive RTP, Double Trouble not only offers players an adrenaline-pumping experience but also the allure of enticing payouts.
To sum it up, Double Trouble is a cinematic escape, transporting players into a world of suspense, action, and rewards. It successfully combines the allure of spy tales with the thrill of slot gaming, creating an unforgettable experience. And where can one embark on this mission of fun and fortune? Only at Red Dog Casino.
Don your spy attire, step into the world of Double Trouble, and may your spins be as sharp as a spy's instincts!