Dollars Down Under Video Slot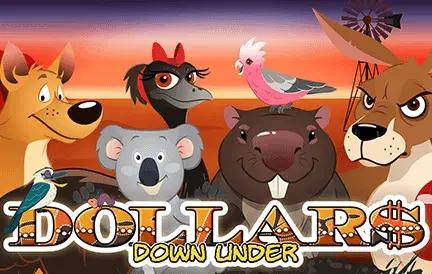 Venture into the untamed outback with Dollars Down Under, the newest Aussie-inspired sensation at Red Dog Casino. This slot machine promises a wild journey through the sunburnt landscapes of Australia, complete with iconic wildlife, distinctive landmarks, and chances to snag some hefty jackpots.
Dollars Down Under is more than just a game; it's an invitation to explore Australia's rich wilderness. The backdrop paints a vivid picture of the vast outback, where kangaroos bound freely and the horizon stretches infinitely. Each slot symbol, from the cheeky koala to the menacing crocodile, encapsulates the essence of the continent, ensuring a gameplay experience that's authentic and captivating.
Yet, the true beauty of Dollars Down Under isn't merely its aesthetic appeal. Packed with bonus features that are as diverse as Australia itself, this slot machine guarantees an adventure that's both thrilling and rewarding. Navigate free spins like you would the winding rivers of the outback, or confront wilds with the audacity of an outback explorer, promising an unparalleled gaming escapade.
Key Features:
Outback Odyssey: Embark on an expedition through Australia's iconic landscapes.
Aussie Adventures: Encounter features that resonate with the spirit of the continent.
Didgeridoo Delights: A soundtrack that perfectly captures the heartbeat of the outback.
In conclusion, Dollars Down Under offers an immersive dive into the heart of Australia, effortlessly merging the magic of the continent with the thrill of a slot machine. If you're keen on an adventure that combines the beauty of nature with the potential for massive wins, make a pit stop at Red Dog Casino. Dollars Down Under awaits, ready to take you on an unforgettable journey down under. Answer the call of the wild and spin your way to outback treasures!