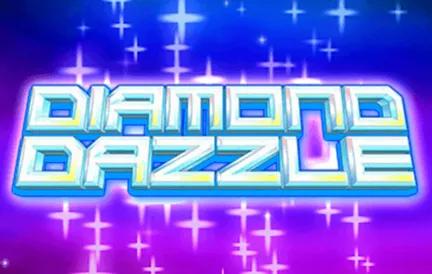 Dive into the glimmering world of Diamond Dazzle by Rival, a captivating online slot game. With its enchanting gemstone theme, innovative gameplay, and potential for wins, Dimond Dazzle slots promise a great casino experience that will keep players on the edge of their seats. Let's take a closer look at this mesmerizing slot game.
Theme & Design
From the moment you launch Diamond Dazzle, you'll be transported into a realm of opulence. The screen is decorated with vivid gemstones, each with its vibrant shape and color. Against a backdrop of deep, velvety darkness, the gems genuinely come to life, creating an atmosphere of luxury and intrigue.
Gameplay Features
Diamond Dazzle is a straightforward online slot game that keeps things simple yet exciting. Here's a basic rundown of its main features:
Reels and Paylines.  Diamond Dazzle features a 3-reel setup with 1 payline, offering an ideal mix of simplicity and potential winning combinations.
Gemstone Symbols. The reels are adorned with dazzling gemstone characteristics and values. From the fiery rubies to the deep blue beauty of sapphires, every spin brings a symphony of colors. There are 13 multipliers to bring you even more winning joy. Take a look at the 5 best multipliers:

green gems – 240x multiplier;
yellow Gems – 300x multiplier;
red Gems – 450x multiplier;
three large Diamond – 600x multiplier;
star Shaped Gem – 1500x multiplier.
Scatter Symbols. Look for the sparkling symbols, which substitute for other symbols to complete winning lines. The scatter symbols can unlock captivating bonus combinations for heightened excitement. The scatter is a black diamond symbol that you can get anywhere on the reels, guaranteeing you 3x payout ( even if it is not on a payline).
Gameplay Dynamics
The interface of Diamond Dazzle is user-friendly and intuitive. Both new players and seasoned gamblers will find it easy to adjust their bets and spin the reels with just a few clicks. The game's responsiveness ensures seamless gameplay across various devices, allowing you to experience the thrill of the gems, whether you're playing on a desktop or a mobile device.
Winning the Game
Diamond Dazzle extends beyond its aesthetics, with a payout range of up to 15,000 coins. Players have the potential to walk away with dazzling rewards. To enhance your chances of success, choose your strategy.
Placing your bet. Adjust your bets based on your bankroll. Finding the right balance can extend your gameplay and enhance your chances of hitting substantial wins. Diamond Dazzle allows you to bet from 0.01 to 30 coins at a time.
Explore the Demo Mode. New to Diamond Dazzle slots? Utilize the demo mode to play Diamond Dazzle online slot for free and get acquainted with the game mechanics and bonus features before playing Diamond Dazzle for real money.
Get the Bonus Symbol. Capitalize on the power of scatter symbols to unlock a thrilling bonus. These bonuses elevate the excitement and offer the potential for significant payouts even if you land one or two gems on the reels.
FAQ
Can I Play Diamond Dazzle for Free?
Playing Diamond Dazzle for fun is possible! You can enjoy the glittering experience of playing Diamond Dazzle online slot for free in demo mode without having to wager real money.
Where Can I Play Diamond Dazzle for Real Money?
Diamond Dazzle is available here at Red Dog for those ready to chase the gemstone riches.
Is Diamond Dazzle Mobile-Friendly?
Diamond Dazzle slots are optimized for mobile play, ensuring you can carry your wins wherever you go.
Conclusion
Diamond Dazzle slot by Rival is a gem among online slots, offering a symphony of colors, excitement, and potential wins. Its enchanting theme, coupled with its relaxing gameplay, creates an exceptional experience both for newcomers and seasoned players. Whether you're spinning the reels for the first time or seeking a new favorite, Diamond Dazzle promises an unforgettable journey through the world of sparkling gemstones. Get ready to uncover the treasures.