Dia de los Muertos Respins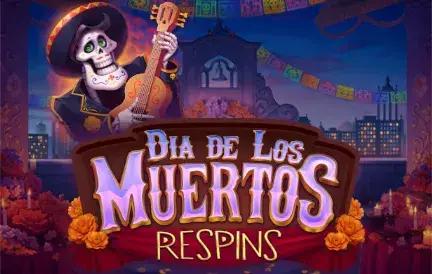 Dive into a vibrant celebration of life and death with Dia de los Muertos Respins, a visually stunning slot machine showcased at Red Dog Casino. This game encapsulates the essence of the famous Mexican holiday, combining cultural richness with the thrill of casino gaming.
Dia de los Muertos Respins stands apart with its beautifully detailed graphics. Each symbol is inspired by the traditional elements of the festival, from painted skulls to blooming marigolds, all set against a backdrop of festive altars and lit candles.
Unmissable Features:
Calavera Bonus: Secure three skull symbols, and the reels come alive with a dance of respins.
Mariachi Multiplier: Land the festive mariachi symbols and watch your winnings multiply in rhythm.
Candlelit Free Spins: Illuminate your game with candle symbols, unlocking a series of free spins that brighten up your chances.
The accompanying soundtrack perfectly complements the game's theme, with traditional mariachi tunes setting the mood. The celebratory beats and harmonious strums make every spin feel like a fiesta. The animations are smooth and colorful, mirroring the lively nature of the Dia de los Muertos celebration.
Red Dog Casino's decision to introduce this slot machine reflects their commitment to offering culturally diverse and thematic gaming experiences. Dia de los Muertos Respins is not just a game; it's an immersive journey into the heart of a beloved tradition.
In conclusion, Dia de los Muertos Respins is a delightful fusion of culture and casino gaming. It offers players a chance to revel in the festivities of a cherished holiday while vying for substantial rewards. If you're looking for a slot machine that combines tradition, artistry, and excitement, head to Red Dog Casino and partake in this vibrant celebration!