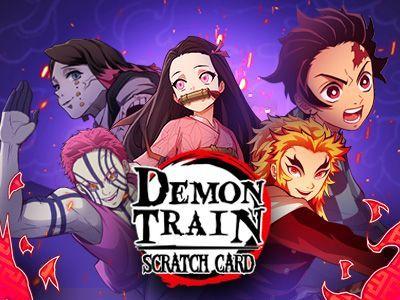 All aboard the thrilling ride of Demon Train Scratch Card, a creation of the illustrious DragonGaming. Taking the classic scratch card game and infusing it with a dark, enthralling theme, this game offers players a journey like no other, filled with suspense, surprises, and potential rewards.
Demon Train Scratch Card stands out not just for its haunting visuals but also for its seamless gameplay. With eerie soundtracks, shadowy graphics, and the thrilling sensation of scratching off the card, DragonGaming ensures that players remain at the edge of their seats.
Why embark on the journey with Demon Train Scratch Card?
- Eerie Atmosphere: The game masterfully captures the essence of a demonic train journey, immersing players in a world of mystery and anticipation.
- Instant Wins: Just like traditional scratch cards, players have the chance to win instantly, adding to the adrenaline rush.
- Versatile Betting Options: Catering to all, from those wary of the demonic influence to daredevil thrill-seekers, the game offers a wide range of stakes.
Key Features to Anticipate:
1. Multiplier Stations: Uncover these to amplify your winnings exponentially.
2. Bonus Symbols: These hidden gems can unlock special rewards or additional game features.
3. Live Dealer Experience: To enhance the dark allure of the game, Red Dog Casino introduces a live dealer option for Demon Train Scratch Card. This interactive addition promises a gaming session that feels incredibly real and atmospheric.
To sum it up, Demon Train Scratch Card by DragonGaming is a must-try for those looking to spice up their gaming routine. Its perfect blend of traditional scratch card mechanics with a haunting theme ensures that players are in for a memorable ride. So, are you ready to board the train and see where it takes you?