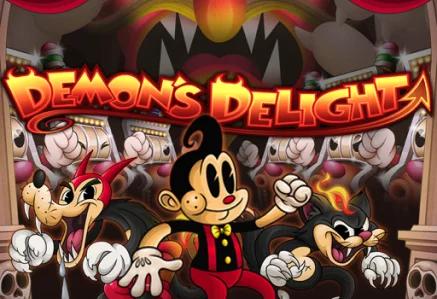 Get ready to visit the underworld of Demon's Delight by Rival, a devilish slot game hosted at Red Dog Casino. Developed by Rival, this infernal slot takes you on a journey to hell, where demons are not your foes but your allies. Featuring a 3x3 grid, 5 paylines, and a classic layout, Demon's Delight offers a thrilling experience with low volatility and an RTP of 95%. The betting range in this free casino game is quite accommodating, ranging from $0.01 to $75. As you spin the reels in this fiery realm, Red Dog Casino ensures that Demon's Delight becomes not just a game but a gateway to an underworld adventure filled with excitement and potential rewards.
Ready for a hellish-cartoonish fun? Read on our Demon's Delight slot review to find out the game's features and winning strategies!
Theme & Design
Despite its hellish setting, Demon's Delight surprises players with its unusual and captivating symbols. The slot game presents a unique blend of dark and quirky imagery from four kinds of aces to bullets, wolves, cats, flaming cherries, and skulls in top hats. The Wild symbol, an angry, flaming mouse, adds a fiery touch to the reels and can expand to cover an entire reel when forming winning combinations. The backdrop of slot machines dancing in the background creates a distinctive, cartoony version of hell, making Demon's Delight a truly unique and mobile-friendly slot title.
Gameplay Features
Demon's Delight at Red Dog Casino offers thrilling gameplay features that constantly captivate players, blending Scatter-triggered free spins with the exciting potential of a jackpot win through the demon dice feature. The game's engaging dynamics make every spin a suspenseful and rewarding experience in the fiery realm of demon-filled reels.
The Scatter symbols, represented by Demon Dice, provide prizes regardless of their landing position. Landing 3 Scatter symbols triggers 7 Free Spins, during which players can encounter demon dice symbols. If you collect 7 Demon Dice symbols during the Free Spins feature, you'll unlock the top prize, a jackpot worth 100 times your stake.
The Wild symbol, in the form of an enraged, flaming mouse, serves as a substitute for other symbols (except Scatters), enhancing the chances of forming winning combinations. Notably, the Wild can expand to fill an entire reel, further boosting the potential for significant wins.
Winning the Game
Players should understand the payout structure to secure victories in Demon's Delight slots. The regular symbols, including various demonic images, offer different payouts based on the number of matching symbols on an active payline. The payout is determined by the number of matching symbols and the values displayed on the paytable.
With 5 playable lines, the game pays out the highest win per selected line. The Scatter symbols, when aligned, trigger free spins, offering additional opportunities to land winning combinations. The expected payback for this devilish game of chance is around 94.96%, adding an element of suspense to every spin.
The game can bring you a maximum of a $1,125.00 jackpot. You should watch the Scatters and Wilds and profit from Free Spins to get it.
FAQ
Can I enjoy Demon's Delight on my mobile device?
Yes, you can enjoy the Demon's Delight slot machine on your mobile device at Red Dog Casino. The game is compatible with various platforms, including iOS, Android, and Windows, offering a versatile and engaging experience across different mobile operating systems and giving a chance to play Demon's Delight online slot for free or real money.
What is the Wild symbol, and how does it enhance gameplay?
The Wild symbol, represented by an angry, flaming mouse, is a substitute for other symbols, expanding to cover entire reels and increasing the chances of forming winning combinations.
How can players win the jackpot while playing Demon's Delight for real money?
Players must collect 7 demon dice symbols during the free spins feature to win the jackpot, unlocking a jackpot worth 100 times the stake. Unfortunately, it is not available in the demo version.
Conclusion
Demon's Delight at Red Dog Casino delivers a devilishly entertaining slot experience. With its unique theme, captivating design, and engaging gameplay features, this Rival creation stands out in the world of online slots. The combination of Scatter-triggered free spins and the potential for a jackpot win during the demon dice feature adds excitement to every spin.
Demon's Delight doesn't just provide a slot game; it offers an escape into a world where the underworld becomes a source of entertainment and potential riches. The developers at Rival have successfully crafted a game that stands out not only for its thematic elements but also for its thoughtful integration of gameplay features. Whether you're navigating the infernal terrain for the thrill of the spin or strategically collecting demon dice symbols for that coveted jackpot, Demon's Delight ensures that every moment is an adventure in the heart of hellish reels.