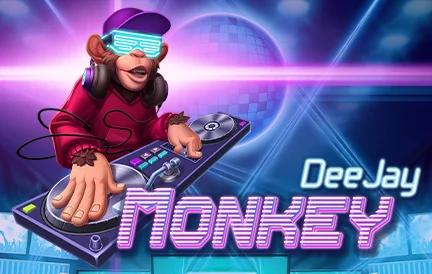 Deejay Monkey at Red Dog Casino is the hottest online slot game that will have you tapping your feet and spinning those reels in style! Take a virtual journey to the heart of the nightlife, where a funky DJ monkey is ready to spin for you on a 3x1 slot grid with a single payline. Deejay Monkey is here to turn your gaming experience into a wild party, and it's all happening under the neon lights of a pulsating nightclub.
Deejay Monkey by Dicelab is an odd one. When it comes to single payline slots with classical mechanics, the style usually goes along with it, and the developers decide to roll out something nostalgic. But not in this case. Deejay Monkey goes full-throttle contemporary, and we love it for this! 
In this Deejay Monkey review, we'll dive deep into the gameplay, features, and soundtrack that keeps the party going. Deejay Monkey will have you dancing your way to jackpot wins and some more to the beats of the house! Join us as we uncover the secrets of this exciting slot game and find out if you have what it takes to party like a pro with the coolest monkey in town!
The Most Stylish Primate in the Club 
Deejay Monkey boasts a visual feast that perfectly encapsulates the vibrant energy of a neon-soaked nightclub. The game's modern art style is a dazzling fusion of futuristic design elements, with an abundance of electrifying green and blue hues dominating the screen.
The charismatic DJ monkey is at the center of it all, sporting a trendy hoodie, oversized neon sunglasses, and headphones that pulse with every spin. This funky simian sets the stage for a wild gaming experience, exuding style and flair as the game's main character and highest-paying symbol. The backdrop of the slot is a dazzling representation of a nightclub, bathed in the glow of neon lights. The symbols on the reels take a significant departure from conventional bars and fruits, which is impressive, given the protagonist is a literal monkey. Those are replaced with the club attribute instead, with loudspeakers and neon bands. 
With its mesmerizing neon-infused visuals, Deejay Monkey elevates the slot game experience to a new level, making each spin a visual treat that keeps you coming back for more.
Spinning Vinyls and Spinning Reels 
At its core, Deejay Monkey slots are a classic 1x3 slot with a single payline. You win by landing similar symbols on the reels next to each other. All the results are registered from left to right. The game offers an RTP of 96.2%. Even though there are no special features to make the gameplay as streamlined and smooth as possible, there are still certain combinations you should be on the constant lookout for. Landing 3 glowing neon bracelets of any type will grant you a 10-time multiplier boost to the total bet! Due to it being a single payline game, the player's total bet equals the line bet that has been placed.
FAQ 
Are there any alternative game modes for Deejay Monkey? 
The game has no varying gameplay modes, but it provides a separate fun demo version that lets you play Deejay Monkey online slot for free. If you are unsure about the game yet and want to test it out, this is the foolproof way of doing so, as you are not playing Deejay Monkey for real money and can take all the time in the world to see if it fits your gaming preferences.
How can I increase my chances of winning in Deejay Monkey? 
The game is completely random, and each spin is generated separately. Given there are no strategic decisions besides putting down bets, your best course of action is simply playing and enjoying the game until you get that lucky strike! 
How well do Djing monkeys fare with cell phones? 
Great. Not only have they adopted the technology, but also mastered it. The game is incredibly well-optimized and runs smoothly on any mobile phone or tablet with the latest version of the OS and the respective browser. You also Don't have to download any apps to enjoy it!
Final Thoughts 
Let's go through its standout features to wrap up our Deejay Monkey slot review.
Modern Art and Design: Deejay Monkey at Red Dog Casino dazzles with its neon-infused, futuristic visuals, and the charismatic DJ Monkey is the show's star, bringing style and flair to the reels. 
Unique Symbol Set: Instead of the usual slot symbols, Deejay Monkey features club attributes, adding a refreshing twist to the game. 
Straightforward Gameplay: With a classic 1x3 layout and a single payline, it's easy to understand and play. The 96.2% RTP adds to the appeal. 
Mobile Optimization: Whether on a smartphone or tablet, Deejay Monkey runs smoothly on the latest devices and browsers, with no need for app downloads.