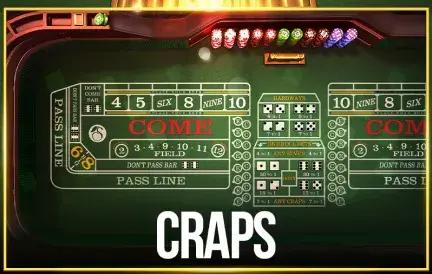 The casino floors have resonated with the clamor of Craps for decades. The thrill of dice rolling, combined with the strategy of placing bets, makes it an evergreen choice for gaming enthusiasts. Bringing this experience to the digital realm with finesse is Nucleus with their version of Craps. And for those eager to immerse themselves, Red Dog Casino is the ideal platform, offering this classic in all its glory.
Nucleus's rendition of Craps stands out in a crowded market. Their emphasis on authentic visuals and sound effects ensures that players get the real-casino feel, right from their devices. Every roll of the dice is a blend of anticipation and excitement, heightened by the top-notch graphics that Nucleus is renowned for.
Distinguishing features of Nucleus's Craps:
Realistic Gameplay: From the tactile feel of the dice to the green baize of the table, everything screams authenticity.
Immersive Sound: The subtle background chatter and the clatter of dice make you feel like you're at a bustling casino.
Intuitive Interface: Be it a novice or a seasoned player, the game's design ensures everyone finds their footing quickly.
Dynamic Betting Options: A broad range of bets to cater to every player's strategy and risk appetite.
Red Dog Casino, with its unwavering dedication to quality, proudly hosts Craps by Nucleus. The smooth gameplay, coupled with Red Dog's robust platform, promises an unmatched dice-rolling experience.
In a nutshell, Craps by Nucleus is a testament to how traditional games can be revitalized with modern technology. It retains the core essence of the game while enhancing the experience with stellar graphics and sound. For those seeking the thrill of the dice without stepping onto the casino floor, Red Dog Casino beckons. Roll the dice, place your bets, and let fortune guide your game!