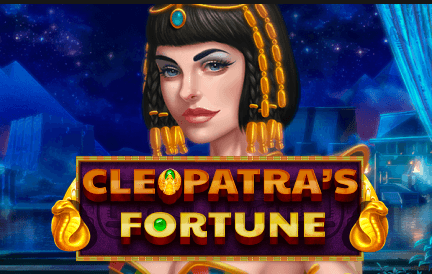 Despite the thriving evolvement of the casino industry, ancient Egyptian layout remains an enduring theme among game developers. Therefore, Dragon Gaming is back with yet another fun-filled and chilling Egyptian adventure in the form of Cleopatra's Fortune slots. 
This game is built on a real-time Egyptian theme with a 5x3 layout and a total of 10 fixed pay lines. Moreover, Cleopatra's Fortune is a video slot game adding more excitement to the gameplay. The RTP rating of this slot goes as high as 95.5%, making it a popular casino game choice for everyone. 
So, let's learn more about the features of this slot game and how to play it by reading Cleopatra's Fortune slot review below!
Cleopatra's Fortune Design & Theme
Some stunning features and detailed information is given in the table below:
| | | | |
| --- | --- | --- | --- |
| Reels | 5 | Min Bet | $0.02 |
| Paylines | 10 | Max Bet | $90 |
| RTP | 95.5% | Game Theme | Egyptian |
| Maximum Win | 1,000 Coins | Game Type | Video Slot |
Cleopatra's Fortune by Dragon Gaming is an Egyptian-themed video slot set in the early 900 B.C. era. The background of the game portrays the deep purple river sides of the Nile with thousands of years old tombs and pyramids of the Pharaohs.
This game features not only the basic aspects of the ancient Egyptian era but also explores the hidden symbolics of the culture. With symbols like Ankh, Scarab beetle, and Anubis god, the game becomes more thrilling and exciting for the players. 
Moreover, the complementing music gives the perfect Arab feels. You will instantly be transported to the iconic lands of Pharoah while playing this slot! 
The Reel Layout
Cleopatra's Fortune is a standard 5x3 slot machine with 5 reels and 3 rows. The grid layout has 3-3-3-3-3 division of the symbols. This layout offers the players a wide spectrum of winning combos for each spin.
Moreover, playing Cleopatra's Fortune for real money offers you fixed 10 pay lines to boost your initial deposits. These pay lines can be triggered by matching the specific set of symbols in a left-to-right manner. You can also give this slot a try for fun! 
Gameplay Features
The betting range for this slot game starts from as little as $0.02. However, the game has a 10-fixed playline layout. Therefore, you need to pay a minimum of $0.20 to start the betting process.  
On the other hand, the maximum deposit for a bet can go as high as $90 per win. Hence, the wagering amount depends on how big you want to go.  
To win the slot, you need to choose the pay line you want to bet on and activate it. Choose the betting amount that you wish to wager on and hit the spin! 
Symbols 
Cleopatra's Fortune at RedDog Casino comprises 3 major and 4 minor symbols. All these symbols combine collectively to form the combinations of the spinning reels that can land you wins.
The major symbols of this slot are: 
Anubis;
Ankh;
Scarab beetle.
Among these symbols, Anubis is the most profitable one. If you land a five-symbol combination of Anubis on your reels, you automatically unlock a 1000x multiplier that multiplies your initial bets within seconds.   
On the other hand, minor symbols include diamonds, spades, clubs, and hearts. All these are low-paying symbols that rarely score a multiplier for your initial bets.
Free spins and Bonus Rounds
The most exciting feature of this slot game is the free spins. This feature is unlocked by a special scatter symbol, in this case–A gold Tutankhamun statue! 
When this symbol pops up on your screen, it triggers a progressively increasing spinning process that automatically increases your betting multiplier on each level. The triggering rule of Cleopatra's Fortune is:
3 symbols give 10 free spins;
4 symbols give 15 free spins;
5 symbols give 20 free spins.
For progression to the next round, you must land 4 Tutankhanum every time to level up. The first level gives you a wild and free spin. You score a 2X multiplier in the second round with another free spin. Finally, the third round gives 2 spins and a wild. 
Rare players who made it to the fourth level get a special Win Both Ways feature and 2 extra spins. It means the player can make a winning combination from both left-to-right and right-to-left patterns.
Last is the fifth level–the final level–this gives a third wild with two spins!
Wild Symbol
Wild symbols are special symbols in casino slots that replace the common symbols once the free bonus features are triggered.
Cleopatra is the game's wild symbol in Cleopartra's Fortunes. This symbol mostly comes in the middle three reels of the layout. This wild symbol can land you a jackpot. Therefore, this makes it the most unique feature of this slot! 
Cleopatra's Fortune–Winning Tips
To play Cleopatra's Fortune online slot for free, you'll need a trusted online casino platform and an initial wager to place the bet.
With the right tips and strategies, you can easily win upto the 1000x the initial wager. You must put in the minimum bet size for the 10 pay lines. 
The winning trick for this slot is to match up 3 similar symbols in a row. It could be any minor or major symbol. The winning bet size depends upon the multiplier of each number. These multipliers are: 
Clubs: 10x;
Spades/hearts: 50x;
Diamonds: 150x;
Scarab beetle: 20x, 100x, 300x;
Ankh: 30x, 150x, 450x;
Anubis: 150x, 300x, 1,000x   .
Another trick is to look out for the animated Sphinx symbol, as these create scatter wins. The multiplier of these symbols are: 
2 symbols pay 2x;
3 symbols pay 5x;
4 symbols pay 20x;
5 symbols pay 100x.
However, the best card is Cleopatra itself! This wild double up your winnings automatically. If you are lucky enough to land five wilds in a row, you can win up to 10,000x your bet! 
Cleopatra's Fortune FAQs
Is Cleopatra's Fortune Available As A Mobile App?
No, Cleopatra's Fortune is unavailable as a mobile app version. However, you can easily play this slot on any online platform using Android, iOS, or desktop devices. 
Is Cleopatra's Fortune A Progressive Slot Machine?
No, Cleopatra's Fortune is not a progressive slot machine. Still, it allows you to win up to 1000x your starting wager.
How Do You Play The Cleopatra's Fortune Video Slot For Free?
You can use your free spins to play this slot game for free. Cleopatra's Fortune is unavailable in the demo version, so you'll need to use real money if you don't have free spins.
Conclusion
Cleopatra's Fortune is one of Dragon Gaming's easiest and most thrilling games with a greater winning potential. With the above-given tips and tricks, you can easily land a good win in no time. Furthermore, the graphics of this slot can hook the player to the game in no time. From newbies to experts, everyone can play and win good payouts by playing this game.