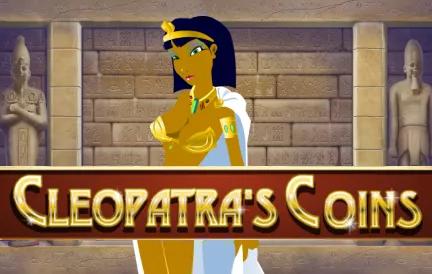 In the mid-2000s, when online gambling was still being shaped into its current form, Rival emerged and took the industry by storm with a series of highly successful titles that somehow remain relevant to this day. Cleopatra's Coins by Rival Gaming is one of those games - still going strong after having amassed a billion spins total along the way. 
During the days of this slot machine release, the public was still hungry for the most basic games, which is reflected in Cleopatra's Coins deliberately unsophisticated gameplay. What you get is a playing board with 15 paylines, volatility that fluctuates from low to medium, and a return-to-player rate of about 93%. 
Game Visuals 
Back in the day, there wasn't a single slot game that Rival didn't adorn with an intro cartoon, and Cleopatra's Coins is no exception. It surely looked impressive what you could do with flash animations at the time, but today's standards are decidedly better in terms of the cut scene. However, the playing board still looks decent and even has some dynamic elements, like the two fire columns. The game's biggest visual merit is that its palette goes easy on your eyes, so you can keep playing for hours without getting that eye strain. 
Core Gameplay 
The game basics couldn't have been more straightforward: you have two buttons to change the bets and set the reels spinning; the rest is none of your concern. It makes it exactly the type of game we would recommend as the gateway into online casino entertainment. Just take a moment to enlighten yourself on how the Wilds and the Scatters work, and you'll be good to go. 
In-Game Extras 
The one and only bonus feature of the game, the Free Spin mode, is triggered by three or more symbols of cobra hieroglyph. Depending on the number of cobras, you can count on 10, 20, or 100 free spins correspondingly, and the whole thing can be retriggered upon hitting enough cobras. 
FAQ 
What should I deposit at the beginning if I want to play Cleopatra's Coins for real money? 
The sum sufficient to play Cleopatra's Coins at Red Dog Casino ranges from $10 to $30 - you're welcome to explore your options in detail on our banking page. 
Is it possible to try out Cleopatra's Coins online slot for free? 
Sure, playing Cleopatra's Coins online slot for free couldn't be easier. Log out from your account if you already have one, and go to the game catalog. While you're in guest mode, each game will automatically launch its free trial version. Remember, you can't win anything tangible while playing the demo. 
Do I need a modern mobile phone to play Cleopatra's Coins slots on the go? 
Absolutely not. You'd be hard-pressed even to find a working phone that was released at the same time this game was, so it's safe to say you can play it on virtually any device. 
Verdict 
It is always a pleasure to revisit some of the first games produced by Rival Gaming, and we've had some nostalgic moments while preparing this Cleopatra's Coins slot review. 
Surely enough, a younger player accustomed to flashier graphics might find this game thoroughly lacking in the visual department. Still, a seasoned slot connoisseur will derive great pleasure from spending an hour or two in a game that is all about good old reel spinning with no frills.