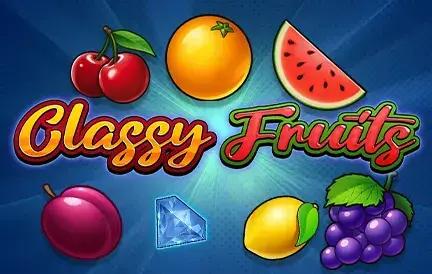 Indulge in a nostalgic gaming experience with Classy Fruits, a slot machine that tastefully merges traditional symbols with contemporary mechanics. Now available at Red Dog Casino, this game promises a delightful blend of classic charm and modern thrills.
Upon launching Classy Fruits, players are instantly transported to the golden era of slot machines. The game features vibrant fruit symbols, reminiscent of vintage casino games, but with a polished, modern design that ensures the visuals feel fresh and enticing.
Noteworthy Features of Classy Fruits:
Luscious Multipliers: Securing a combination of specific fruit symbols can reward players with juicy multipliers.
Retro Free Spins: By hitting the right blend of symbols, players can activate free spins, echoing the timeless appeal of old-school slots.
Golden Wilds: These shimmering symbols have the potential to substitute for other icons, increasing the chances of a delightful win.
Red Dog Casino's decision to introduce this slot machine to their lineup resonates with both new and seasoned players. While older gamers can appreciate the nod to the slot games of yesteryears, newer players will find the slick graphics and dynamic gameplay irresistibly engaging.
The auditory experience in Classy Fruits is equally commendable. The soundtrack perfectly complements the game's theme, with upbeat tunes that hark back to classic slot experiences while maintaining a fresh twist.
In conclusion, Classy Fruits offers a refreshing take on the traditional fruit slot genre. It successfully marries the charm of vintage games with the excitement of contemporary slot mechanics. For those who cherish a blend of the old and the new, Classy Fruits at Red Dog Casino is an impeccable choice. Dive in, and let the fruits lead you to a banquet of wins!