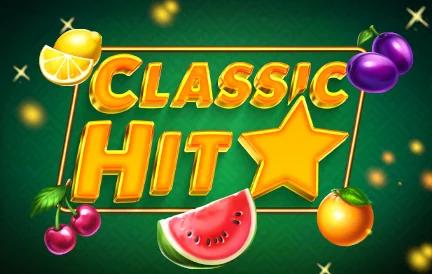 In this Classic Hit slot review, we will explore a beloved classic: traditional online slot machines. We'll journey through the digital corridors of a timeless casino experience, where the fusion of tradition and technology creates an enthralling gaming adventure. Classic online slot machines have held their place in the hearts of players for generations, and today, we invite you to rediscover the magic they offer. With their iconic symbols, familiar jingles, and the thrill of watching the reels spin, these games harken back to simpler times while delivering excitement in the modern age.
This comprehensive analysis delves into the mechanics, aesthetics, and bonuses that make classic online slots a perennial favorite and uses Classic Hit as our investigation subject. We'll guide you through the gameplay, payouts, and overall user experience, ensuring you're well-equipped to navigate the world of Classic Hit slots confidently.
So, prepare to be transported to a world of endless possibilities as we uncover classic online slot machines' timeless appeal and electrifying potential. With each spin, a fortune awaits, and we're here to help you seize it!
If It Ain't Broke, Don't Fix It
The game is called Classic Hit for a good reason. Everything about it is reminiscent of the golden age of gangster movies and the glory days of Las Vegas. Upon launching the game, you will be greeted by a green backdrop not too dissimilar to the green satin of a playing table at a casino. The energetic music completes the atmosphere, keeping the rhythm up, making those one-armed bandits click and clack and coins drop in unison in a casino hall.
All the symbols on the reels are what you would normally expect from a conventional slot machine. The fruit gang is all here: the watermelon, the orange, the lemon, the plums, and the cherries. The rest of the roles are filled with bars - nothing crazy here. While it's not the most imaginative design, it still works. In part thanks to the great execution of the said designs. All of the artwork is crisp and juicy. Pun fully intended.
Good Old Fashioned Reel Spinning
Classic Hit by DiceLab uses a traditional single reel 3 by 1 setup. The RTP on the title is 97.04%, which is commendably high. All your wins depend on the symbols you land on the single payline, with the results being registered left to right. The better symbols you get on the reel, the higher the payout. No special features or confusing modifiers, a welcome decision in today's market overburdened with unnecessary bells and whistles that make games too confusing for beginners and irritating for veterans.
Despite its retro design philosophy regarding game mechanics, Classic Hit UI and quality-of-life features are nothing but modern. The game provides the player with the auto spin option that can be tweaked according to your preferences and a fairly customizable UI. Dicelab also included a "fun" demo mode, letting you play Classic Hit online slot for free just to get a sip of that sweet-sweet nostalgia and tame your thirst. If the big game is what you are here for, then you go right ahead and play Classic Hit for real money.
FAQ
How can I be sure the game is not rigged, just like those old-time one-armed bandits in Vegas often were?
The Red Dog Casino's games are certified as fair, have a license, and undergo regular certification. The website's homepage has an info section where you can get all the pertinent details.
What are the advantages of playing Classic Hit at Red Dog Casino?
Compared to the more contemporary designed slots, Classic Hit offers:
blazing fast gameplay;
simple rules;
no confusing features or multipliers;
solid RTP;
nostalgic feel.
Does the retro design philosophy of Classic Hit at Red Dog Casino extend to mobile compatibility?
Classic Hit is a modern game except for style, and DicLab is familiar with its guidelines. This slot machine can be played in Android and iOS browsers without downloading an app, is completely mobile-compatible, and is easy to operate. Make sure your favorite browser is current to get started.
Verdict
Classic Hit effortlessly lives up to its name, delivering a dose of nostalgia that harkens back to the golden age of slot machines. Its retro design and straightforward gameplay retain the timeless charm of classic slots. While lacking the bells and whistles of modern counterparts, this game captivates with its crisp artwork and simple yet rewarding mechanics. The high RTP ensures a fair shot at winning, making it a solid choice for newcomers and seasoned players. Whether you're seeking a trip down memory lane or a straightforward, enjoyable slot experience, Classic Hit at Red Dog Casino delivers on its promise of classic casino entertainment.