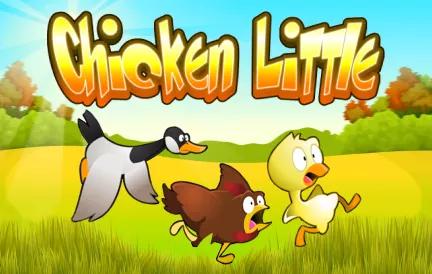 The story of Chicken Little may not have ended happily, but the online slot machine game by Rival Gaming with the same name just may. You can earn rewards for discovering the main characters, including Chicken Little, Ducky Lucky, and Henny Penny, as well as the acorn that landed on Chicken Little's head and caused her to believe the sky was falling in. And a joyful zest - there isn't even any evidence of the ravenous Foxy Loxy!
 
Playing Chicken Little by Rival Gaming, you will discover some of the most well-known vintage symbols, such as mixed, single, double, and triple bars, which might earn you rewards. There are also some more bonus features that you can get, but to know more about them and other game details, you need to follow the Chicken Little slot review below.  
Graphics & Design            
Chicken Little slots have a simple layout - only one straight pay line running down the center of the three-reel grid. But despite its simplicity, it catches the eye even of the most experienced players, as the Chicken Little slot machine has some excellent illustrations and a lovely pastel color scheme. What is more, there are a lot of chances for any player to catch a big win, and the game was made not only for fun but for the great pleasure of getting precious prizes!  
Core Gameplay
Even if you are looking for a place to play Chicken Little online slot for free using a demo version, instant play mode, or other alternatives, it is still good to know what are the betting options and winning odds, and who knows, maybe this information will lure you to play Chicken Little for real money.
For mixed bars, you can win up to 6 coins; for single bars, up to 24 coins; for double bars, up to 30 coins; and for triple bars, up to 45 coins. Acorn-related awards are also increasing, with 3 acorns yielding up to 60 coins, even though most acorns fall to the ground. Then, up to 120 coins can be won for locating Henny Penny, up to 210 coins for discovering Ducky Lucky (let's hope she's luckier than she was in the fairy tale), and up to 4000 coins for finding Chicken Little.
When Chicken Little turns wild on the reels, she can act as a stand-in for all other symbols to help turn lost lines into winning combos, doubling the payout listed on the paytable for any line in which she does so.
In-Game Extras    
The original Chicken Little was constantly off her game, but by choosing the ideal line bet size, you can put her and you back on track. Combining 1 to 3 coins with coin values ranging from 0.01 to 10 can be used to achieve this, with a minimum stake of just 0.01 coins each spin and a maximum bet of 30 coins per spin being supported. 
The other valuable symbols are the Geese, three of which give you a 70 coin return on 1 coin, the Old Chicken, the Rooster, the Duck, and the Acorn. 
Multiplier Symbol: the distinct bar symbols have single, double, and triple multiplied values. In Chicken Little, several bar combinations offer profitable prizes;
Free Spins Feature: you will receive 10 free spins if you land three Chicken Little symbols. 
FAQ               
Is Chicken Little at Red Dog Casino mobile-friendly?               
Sure! Any player is welcome to use their mobile devices to enter this slot machine.
What is the Chicken Little RTP rate?               
The Chicken Little slot game RTP rate is 95.28%.  
What is the max coins Chicken Little slots?  
The player can get up to 8000 times the bet amount Jackpot! 
Bottom Line               
The concept of Chicken Little, a feature-rich video game by Rival Gaming, is inspired by the same-named animated character. Despite having just three lines, one payline, and no progressive jackpot, this straightforward game is deservedly well-liked, partly due to its substantial paytable. Because you may earn a lot of money playing this game, it's an excellent choice for both high rollers and players who play for smaller amounts.