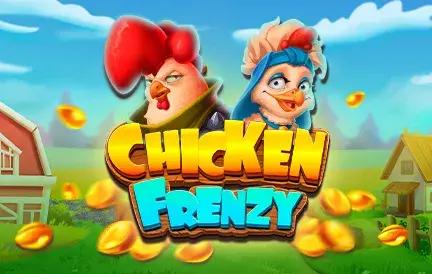 Dust off your boots and enter the vibrant world of Chicken Frenzy by DiceLab! It isn't your everyday slot machine. You're in for a treat with its enthralling farm landscapes, cheeky chickens, and wholesome country vibes. As the reels spin, you're transported straight into a sunlit farm where each win is celebrated with upbeat country music.  
Every symbol tells a story, from the golden eggs waiting to boost your winnings to the cool-looking rooster boasting a generous reward. The charm of the countryside meets the thrill of chance. Ready to embark on a fantastic adventure and perhaps even dance to the tune of big wins? Let's dive into our Chicken Frenzy slot review and discover all the surprises this game has in store! 
Theme & Design 
Just picture this: a sun-drenched farm, fields glistening under the sun, setting the scene for your gaming escape. Every detail of this game has been crafted with style – from the hand-carved wooden reels echoing tales of simpler times to the playful animations that seem to jump right out of a child's storybook.
Dive deeper, and you'll appreciate the razor-sharp graphics, making each character and symbol pop, just like that proud rooster crowing to greet the day. But it's not all about the sharp visuals. The game's color palette feels like a fresh morning in the countryside – vibrant, inviting, and full of life.
Playing Chicken Frenzy slots is like taking a stroll through a farmer's market – there's so much to see, experience, and enjoy. It's a delightful fusion of nostalgia and modern design, curated to give you a visually delectable gaming experience, achieving a well-deserved 5/5 stars design-wise. 
Core Gameplay & In-Game Extras 
Now, we're about to look into the heart of Chicken Frenzy's gameplay, from special symbols that feel as fresh as morning dew to in-game extras that pop up like surprises in a hen's nest. 
Wild Symbol — In this slot game, this old fella substitutes for all symbols except for Golden Egg's Bonus and Keys. 
Cage Symbol — Locks down the hens and roosters and provides a cash prize for freeing the birds. 
Keys Symbol — May land on reels 2, 3, and 4, opening the farm cages and giving the player a special cash prize. Each key symbol unlocks all cages on the screen, and the more keys you collect, the bigger your prize becomes. On top of that, each key symbol comes with an x1 prize multiplier! 
Golden Egg's Bonus — May land on any reel to trigger the Farm Craze Free Game feature and grant generous cash prizes! 
Farm Craze Free Game — Land 3 or more Golden Eggs anywhere on the reels to trigger the feature and get cash rewards. The number of Free Spins and cash prize size depends on the number of triggering Golden Eggs. 3 Eggs = 10 Free Spins and x2 total bet prizes, 4 Eggs = 15 Free Spins and x10 total bet prizes, and 5 Eggs award you 25 Free Spins and x25 total bet prizes! 
FAQ 
Is Chicken Frenzy mobile-friendly? 
Definitely! Chicken Frenzy is tailored for the modern gamer, making it compatible with a wide range of mobile devices and tablets. Whether on the go or just lounging around, this game is right at your fingertips, ensuring seamless gameplay wherever you are.
Can I play Chicken Frenzy for free? 
Absolutely! You can play Chicken Frenzy online slot for free using the demo version to become familiar with its dynamics and play just for fun. When you feel you've got the hang of it and the confidence is brewing, transition to full mode and begin playing Chicken Frenzy for real money. It will elevate your gaming experience, taking you from casual fun to exhilarating highs.
How do I start playing Chicken Frenzy? 
Finding Chicken Frenzy at Red Dog Casino is a piece of cake. Navigate to the 'New Games' or 'Slots' sections to find it nestled among other exciting titles, or, for a swift find, just type its name into the search bar and enjoy! 
Conclusion 
Our journey through Chicken Frenzy has ended, and now it's time for a verdict. Speaking of design, we have every reason to give it the highest grade. From its intricately designed landscapes to the fluidity of its animations, it's a visual treat for the senses. The gameplay pairs seamlessly with in-game extras that keep the experience fresh and engaging, and it's evident that every detail has been crafted to perfection. So, if you're seeking a blend of aesthetic beauty and thrilling gameplay, look no further. It's time to join the farm fiesta and revel in the fun!