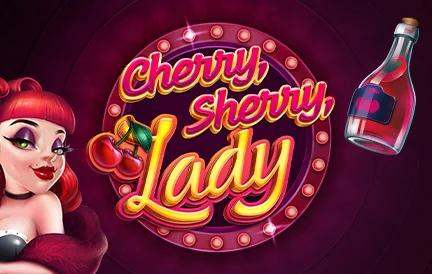 Cherry, Sherry, Lady by DiceLab is a curious take on the classic slots formula. Mechanically speaking, you get a standard slot machine layout you would find in the brick-and-mortar casinos worldwide a couple of decades ago with a slight curious twist to it. At its core, Cherry, Sherry, Lady is a single payline 3 reel online slot with no common modern features like Scatters or Wilds, which is a brave move by the developers and a statement in and of itself by not following the current trends. Sometimes, less is more, indeed.
While the gameplay mechanics may seem somewhat basic, they have a certain charm and allure in their simplicity, letting you enjoy spinning the reels and wind down after a hard day. The Cherry, Sherry, Lady slots style and graphics are most certainly not lacking in allure. The artwork is out of this world, and the execution is impeccable. If you are interested and want to know more about what the game has in store for the players, you are welcome to read on in this Cherry, Sherry, Lady slot review.
Carmine Carnival of Color
The word of the day with this one is "Red", my friends. Scarlet, ruby, vermilion, cherry, wine. All the hues you can imagine and more. All of the artwork is incredibly consistent with its use of color, which ties everything together perfectly. Everything has at least a touch of that rich, energetic tincture from the deep-red background adorned with card symbols, getting brighter the closer you get to the center, to the main symbols on the reels.
The eponymous icons deserve a separate mention, as they truly elevate the game as a whole. Plump glistening cherries, fresh from the tree branch with an emerald-green leaf, a shiny bottle of the sweetest cherry wine, and the alluring rosy-cheeked crimson lady rightfully take the spotlight. Besides being just a treat to look at, these also form a unique combination, but more on that later. The supporting cast of icons is well-made, but they don't come near as close to the visual delicacy as the main trio.
It's in the Reels
Cherry, Sherry, Lady at Red Dog Casino is a classic 1x3 slot with a single payline and 3 reels. The excitement comes from the smooth, uninterrupted gameplay and rich win payouts. The game provides an average RTP of 97.04%, which is more than respectable. By now, you probably know the drill. Still, in case you are completely new to the world of gaming, our goal is to land similar symbols on all of the reels. Still, in the case of Cherry, Sherry, and Lady slots, you also have an additional combination in the title, offering even greater payouts.
The game comes with a free "fun" demo mode you can access by choosing the game from the list on the main website maps without logging into your account or by choosing it manually from the game options menu. The mode lets you play Cherry, Sherry, Lady online slots for free to get the feel of it. If you think it is just your cup of cherry wine, you can always switch to playing Cherry, Sherry, Lady for real money by simply switching the mode in the options menu or logging into your account and choosing the game again.
FAQ
Does Sherry, Cherry, and Lady provide modern quality-of-life features like autoplay and disconnect safety?
Of course! Being a retro-styled slot machine doesn't mean everything about it must be retro. We value your time and prioritize your experience at Red Dog Casino. You will find everything you have come to expect from modern online slot games in terms of functionality here.
Are there any similar games to Cherry, Sherry, Lady I can find on the Red Dog Casino game selection?
If you long after that nostalgic feel of classic online slot machines, Red Dog has got you covered. Here are a few games that might scratch your itch:
Classic Hit;
Fresh Crush;
So 80's; 
Does Cherry, Sherry, Lady's commitment to retro design include support for mobile devices?
Cherry, Sherry, Lady is a contemporary game, except for style, and DicLab knows how to work on such projects. This slot machine is fully mobile-compatible, simple to use, and can be played in Android and iOS browsers without downloading an app. To begin, make sure your preferred browser is up to date.
Conclusion
Cherry, Sherry, Lady by DiceLab takes a bold departure from modern slot conventions, offering a refreshing return to the simplicity of classic slots. Its single payline, three-reel design, without common features like Scatters or Wilds, offers a unique and straightforward gaming experience.
The game's standout feature is undoubtedly its vibrant and visually stunning artwork, with a rich red palette that captivates the eye. While it may lack the complexity of contemporary slots, Cherry, Sherry, Lady excels in providing a nostalgic, relaxing gaming experience. With a respectable RTP and user-friendly features like autoplay, it's a worthy choice for players seeking a taste of vintage charm in online slots.