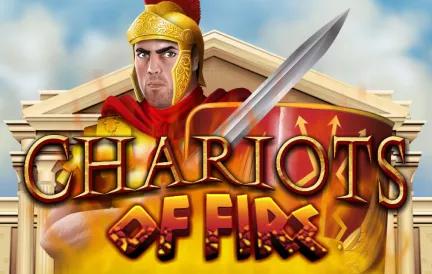 Chariots of Fire by Rival Gaming is a casual exploration of the Roman Empire's cultural heritage expressed through a slot machine. Prepare to see all the token symbols of the era you may remember from your history class or the Hollywood movies in this 5-reel game that offers 25 paylines to take care of and has an RTP rate falling just a fraction short of 95%, which is a pretty average result for the industry. 
Design & Visuals 
Rival is perfectly capable of producing pretty impressive visuals by the genre's standards, but they have definitely decided to tone the details down with the Chariots of Fire. Suppose the general idea behind this was to eliminate possible distractions from what's happening on the playing board. In that case, we'll call it a success, but the game does look a little bland from any other perspective you look at it. 
Core Gameplay 
The game goes easy on the new players - all the buttons you'll see at the bottom of the playing board feature some self-explanatory text instead of being excessively stylized. You can also check the game's combinations list by pressing the corresponding button in the top corner. After all these preparations, just set the reels spinning and enjoy the show. 
Extra Features 
Just like in any other slot game, the path to your big win is paved with luck and special symbols. The way the latter work in Chariots of Fire is quite peculiar: the Free Game mode is triggered by the Soldier symbol, which persists in giving even more impressive bonuses while the round is active.
Firstly, the third reel morphs all the symbols into Wilds as long as you have some free spins.
Secondly, another appearance of the Soldier in Free Game mode will launch the Roman Victory bonus round, where one more reel gets the morphing properties. 
FAQ 
Is there anything I should know before playing Chariots of Fire for real money? 
If this is your gambling debut, take a moment to get acquainted with our Terms and Banking rules - this will prevent you from getting any false expectations and potentially lower the joy of playing Chariots of Fire at Red Dog. Other than that, there are no caveats worth mentioning.  
What are my options if I want to play Chariots of Fire online slot for free? 
At Red Dog, you're welcome to do so regardless of whether you're a registered user or a guest. The games will automatically switch to the demo mode if you click on them while not logged in. And it is when the time comes to play for fun and enjoy the game instead of worrying about every dollar bet. 
Do I need to put any extra effort into playing the Chariots of Fire slots on my portable gadget? 
Not really. All it takes is logging into your Red Dog account from a mobile device the same way you'd do on a desktop and enjoying any game that catches your eye - the platform is continuously optimized for a flawless smartphone experience. 
Conclusion 
To summarize our Chariots of Fire slot review, let's say this is a deliberately oversimplified game designed to appeal to as broad an audience as possible. While it's true one won't see anything groundbreaking exploring this Rival Gaming title, this shouldn't stop a curious player from giving the game a go. 
The unsophisticated allure of Chariots of Fire lies in how enjoyable the game feels even after a couple of hundred spins, mainly because of some very satisfying visual and sound design choices. As a result, the title can be an instant classic for those not amused by the newer, more dynamic, and vibrant slots.