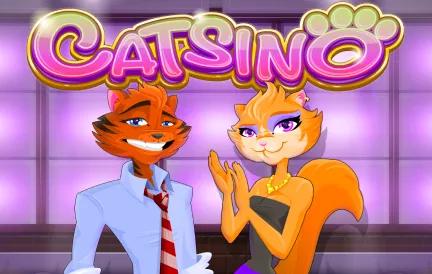 Without cats, what would the internet be like? We believe it would only be a dull instrument for individuals to learn uninteresting facts about various mundane topics. It would be a horrible place. Thankfully, it doesn't take long for internet users to browse the web before finding an adorable kitten image or a funny cat video to brighten their days. With Catsino by Rival Gaming, internet users and slot machine players can now have all the entertaining feline action they could possibly desire. Ironically enough, today's game is featured at Red Dog Casino, which might prove that cats and dogs can be friends after all. 
Theme & Design 
Cats in a casino are such a great and simple premise, and we're surprised no one has ever thought of it before. What possibly could go wrong? As a result, players will see a wide variety of cat figures on the reels, including some dashingly attractive tomcats and some lovely molly-cats, who are all playing roulette in a cartoon casino setting. The fact that one of these gambling cats will serve as a wild symbol to finish winning lines makes them feel exceptionally lucky. Furthermore, once they strike, they will triple all wins, automatically adding weight to the symbol. All the artworks are charming, and the backdrop is great. Top score for visuals! 
Gameplay 
The casino's main boss cat has a rugged appearance, and he doesn't seem too happy that this feline gang is robbing him of his money. If Catsino players spin the reels correctly, they will also be able to milk the fat-cat casino character for all that he is worth. It is due to the fact that this figure serves as the game's scatter icon, which means that landing three of them anywhere on the reels will start a round of nine free spins with a multiplier of 5x for wild symbols. 
But that's not all; players can activate an additional extra feature during these free spins. The slot game's 9 Lives Super Round will start if three different fat-cat symbols emerge while the free games are being played. Players will be treated to wild wins that multiply the winnings by a whooping 7x during this bonus game. 
It's safe to say that Catsino will offer lots of opportunities for players to spin a winner with its 50 paylines available for use. To reduce the amount of their overall stake, players can choose to play on fewer paylines. The number of active paylines will be multiplied by the total value of all coins and credits, which may range from 1 to 10 and have the following values:
0.01 USD per payline;
0.05 USD per payline;
0.10 USD per payline;
0.25 USD per payline.
With a minimum investment of 0.01 and a maximum total bet of 125.00 credits, it creates a wide range of potential real wagers. 
FAQ 
Can I play Catsino online slot for free? 
If you don't feel like playing Catsino for real money yet, you can always access free demo mode through the game options menu. 
Is Catsino available on mobile devices? 
Of course! Whether you are a mobile or desktop player, Red Dog got you covered! 
What else can I play if I really liked Catsino at Red Dog Casino? 
If you enjoyed Catsino slots, you might as well try Rival Gaming titles such as Diamond Dragon, Mythic Wolf, and Fortune Frog. 
Final Thoughts 
If there is one animal motif that will draw spinners from all backgrounds, it would have to be the cat theme. Fortunately, cat lovers won't be dissatisfied by this entertaining and colorful novelty slot machine because it has wild winnings with a possible 7x multiplier and a modern cartoon aesthetic, increasing the likelihood that you'll enjoy your spins at Catsino. So whether you come here for wins or fun, you'll get both!