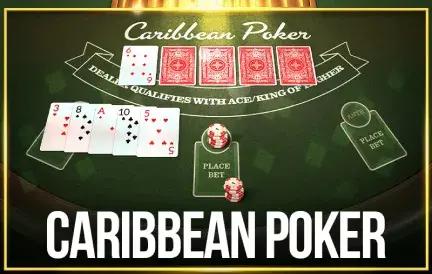 The allure of poker meets the vibrant energy of the tropics in Betsoft's Caribbean Poker. This captivating variant is not just about playing a hand; it's about immersing oneself in a tropical casino ambience, where each play feels like a refreshing sip of a chilled piña colada. Red Dog Casino, a trusted name in online gaming, has proudly added Betsoft's Caribbean Poker to its premium collection.
Betsoft, known for its high-quality gaming experiences, doesn't disappoint with Caribbean Poker. The game captures the essence of poker while infusing it with a unique Caribbean twist, making every round feel like a mini-vacation.
Standout features of Betsoft's Caribbean Poker:
Tropical Design: Lush green backdrops and warm hues transport players straight to a beachside casino.
Fluid Gameplay: No hiccups, just seamless poker action.
Interactive Interface: Player-centric controls make betting and card decisions a breeze.
Fair Play: Random number generation ensures every hand dealt is unbiased and just.
Red Dog Casino, with its stellar reputation, is the perfect host for Caribbean Poker. The casino guarantees a smooth gaming experience, further enhancing the game's overall appeal. With top-notch security and quick payouts, players can dive deep into the Caribbean Poker experience without a worry.
In conclusion, Caribbean Poker by Betsoft is a refreshing take on the classic poker game. It successfully melds the strategies of poker with the breezy, relaxed vibe of the Caribbean. The added advantage of playing at Red Dog Casino ensures that players not only get an immersive gaming session but also a trustworthy platform. So, for those looking to break away from the traditional poker mold and try something vibrant, Caribbean Poker awaits, promising sun, sand, and some serious winnings.