Captain's Quest: Treasure Island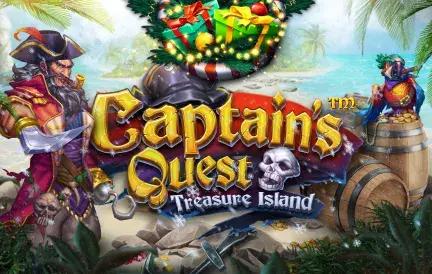 Ahoy, mateys! Prepare to embark on a swashbuckling adventure with Captain's Quest: Treasure Island, the latest slot machine sensation to dock at Red Dog Casino. This game invites players aboard a pirate ship, navigating the treacherous seas in search of legendary treasures and unimaginable riches.
From the moment you hoist the sails and begin your journey with Captain's Quest: Treasure Island, you're transported into a world of pirate lore and oceanic mysteries. The graphics are impeccable, depicting a captivating seascape with glistening waters, palm-fringed islands, and ancient maps leading to buried treasure.
Noteworthy Features of Captain's Quest: Treasure Island:
Scurvy-Free Spins: Land the pirate ship symbols and watch as the reels fill with golden coins, awarding you with bonus spins.
Treasure Map Bonus: Discover parts of the mysterious map and piece them together to uncover hidden booty.
Wild Parrots: These vibrant birds can replace any symbol, helping players strike gold and secure a winning combination.
The slot machine is meticulously designed, ensuring every spin feels like a step closer to unearthing the coveted pirate treasure. Each symbol, be it the fearsome pirate captain, the gleaming cutlass, or the bottle of rum, tells a story and adds to the ambiance. The rhythmic shanties and wave crashes serve as the game's soundtrack, immersing players even deeper into the narrative.
Red Dog Casino has, once again, showcased their commitment to delivering top-tier gaming experiences by introducing Captain's Quest: Treasure Island to their repertoire. This slot caters to both adventure enthusiasts and those who have a penchant for slots laden with innovative features.
In conclusion, Captain's Quest: Treasure Island isn't just a game; it's a journey. A journey filled with risks, rewards, and the allure of the open sea. Those who dare to sail with the captain at Red Dog Casino might just find their fortunes!