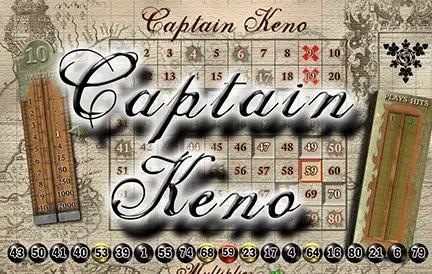 Ahoy, lottery enthusiasts! Embark on a nautical adventure with Captain Keno, a maritime-themed game from the renowned provider, Saucify. Marrying the thrill of traditional lottery with a swashbuckling twist, Captain Keno promises a voyage of excitement and potential treasures.
Captain Keno stands apart in the vast sea of online lottery games. With its captivating theme and enthralling gameplay mechanics, it beckons players to test their luck and strategy on the high seas, all under the watchful eye of the Captain himself.
Why set sail with Saucify's Captain Keno?
- Maritime Magic: The game immerses players in a seafaring world, complete with nautical graphics and sound effects that enhance the overall gaming experience.
- Classic Keno Mechanics: At its core, Captain Keno retains the beloved traditional keno playstyle, where players select numbers and hope for a match during the draw.
- Broad Player Appeal: From novices taking their first voyage to seasoned sailors, Captain Keno offers a range of stakes to suit all players.
Special Features to Navigate:
1. Captain's Bonus: A unique feature where the Captain's chosen numbers can amplify wins.
2. Autoplay Option: Allows players to set a number of rounds for uninterrupted gameplay.
3. Live Dealer Interaction: For those seeking a deeper dive into realism, Red Dog Casino offers Captain Keno with a live dealer. This human touch brings players closer to the action, replicating the ambiance of a brick-and-mortar casino.
In conclusion, Captain Keno by Saucify is a fresh gust of sea breeze in the world of online lottery games. Its nautical theme, combined with familiar keno mechanics, ensures a gaming experience that's both refreshing and nostalgic. So, hoist the sails, chart your course, and let Captain Keno lead you to potential treasures!