Buckin' Broncos Video Slot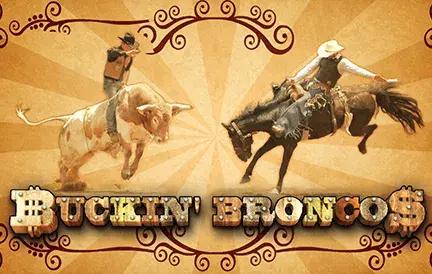 Saddle up for a wild ride with Buckin' Broncos, the latest rodeo-themed sensation at Red Dog Casino. This slot machine transports players straight into the heart of a bustling arena, where cowboys and broncos engage in a dance of agility, strength, and luck.
From the very first spin, Buckin' Broncos captivates with its authentic rodeo atmosphere. The backdrop displays a dynamic arena filled with cheering crowds, dust clouds, and the sheer energy of a live rodeo event. Slot symbols, ranging from daring cowboys to fierce bucking broncos, bring the raw essence of rodeo right to your screen, ensuring each spin is as thrilling as the real deal.
But the allure of Buckin' Broncos doesn't end with its gripping visuals. The game is also loaded with features that mirror the unpredictable nature of a rodeo. Players can grab bonus rounds like they would a wild stallion, or harness free spins with the skill of a seasoned rider, making the slot machine experience both immersive and rewarding.
Key Features:
Rodeo Rush: Immerse yourself in the exhilarating world of cowboys and broncos.
Wild West Wins: Harness features that deliver rewards as big as a rodeo jackpot.
Country Tunes: A foot-tapping soundtrack that encapsulates the spirit of the Wild West.
In summary, Buckin' Broncos offers a unique blend of adrenaline-pumping action and enticing rewards. Seamlessly combining the thrill of a rodeo with the unpredictability of a slot machine, it promises an unmatched gaming adventure. If you're itching for a taste of the Wild West and the chance to win big, head over to Red Dog Casino. Buckin' Broncos is all saddled up, waiting for you to take the reins and gallop towards glory. Mount up and let the rodeo begin!