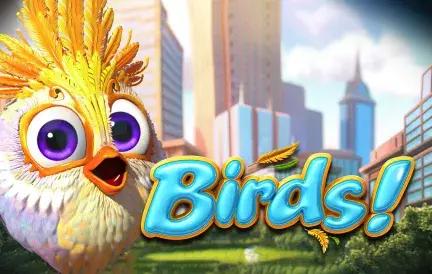 If you're fond of birds and a gambling enthusiast too, Birds by BetSoft is something you must try, featuring 25 pay lines & 5 reels. The game brings an outdoor experience where three rows of colorful birds sit on the power lines.
What enhances the appeal of this slot is that it offers an RTP of 96.48%. Moreover, this slot's minimum coin bet range is just 0.25 and goes up to 1.25, providing many players the chance to compete.
After hearing all the good things about it, we know you're excited to play this game. However, you should check this Birds slot review before you play Birds for real money, as it provides you with all the important insights.
Theme & Design of Birds Slot
BetSoft's Birds slot is a game that revolves around a charming flock of feathered friends. The design of this slot combines a 3D animation style with a unique grid layout.
Instead of traditional reels, the game features a grid of animated birds sitting on power lines. When you spin, the birds fly away, and new ones replace them, creating a cascading reel system.
This slot has a cityscape theme, adding an urban taste to the birdwatching experience. Each bird character is meticulously designed, showcasing their personalities and making them appealing to players. The soundtrack features cheerful melodies and chirping birds in the background, enhancing the game's potential for fun.
Gameplay Features 
Paylines 
This slot has 25 pay lines and 5 reels, providing 50 different ways of winning by matching symbols on the reels. 
Cascading Wins 
Cascading Wins is the central feature of this slot that fills that gap with new symbols when the old ones are removed after you win. 
Free Spins 
The Free Spin feature with 8, 12, or 20 spins is triggered when you fill the Free Flight meter for 4, 5, or 6 segments, respectively. 7 or more Free Flights give 14 free rounds + a bunch of bonuses.
Free Flight Meter 
You can trigger 8 free spins if the meter in the bottom with an egg on its right is filled. Luckily, the number of free spins increases with each bird flight, and the meter is filled with cascading reels.
Risk Game
The double-or-nothing feature is available after every win for risk-takers. This feature has 50/50 mini-games where the player must guess which face the coin will land. A correct guess will give you double the prize, but a wrong one makes you lose it all while playing Birds at Red Dog Casino.
Mobile Gaming 
Birds is among the most accessible slots on the market as it is also available for smartphones. It has been designed using the Flash technology, which makes it ideally suited to mobile gaming anywhere and anytime you want. 
Winning the Game 
The game's betting range lies between $25 and $125; for the coin bet, the range is 0.25 to $1.25. The RTP of this slot is 96.48%. Thus, your wins can be quite significant here.
Tips on How to Win the Game 
Stick to a calculated budget, and don't break the bank while pursuing big prizes. Try playing this slot game in a demo version to get familiarized with the rules, symbols, and potential payout options. Constantly adjust your bet size to match your feasible budget. Higher bets can lead you to win big, but sometimes, a little sanity goes a long way. Slot games work randomly. An urge to win when you lose can cost you significant losses. So, always step into gambling with proper knowledge.
FAQ
What is Birds Slot by BetSoft?
Birds Slot is an online video slot game developed by BetSoft. It stands out due to its charming avian-themed symbols and cutting-edge gameplay structure.
What is the RTP of Birds Slot?
The RTP for Birds Slot hovers around 96.48%. This figure represents the theoretical average return to players over an extended period of play.
Can I play Birds online slot for free?
Many online casinos provide a demo mode for Birds Slot. It allows players to explore the game, features, and entertainment value without wagering real money. Moreover, it's a great way to become familiar with the slot before deciding to play with real stakes.
Conclusion 
Birds slots should be an obvious choice for gamblers who love colorful winged fellows. The game offers an impressive RTP of 96.48% and several lucrative features for an exciting experience. However, it's also crucial to understand that your winning streaks might halt where you need patience.
If you're a bit careful, this game can be highly rewarding and thrilling!