Big Game Spin16 Video Slot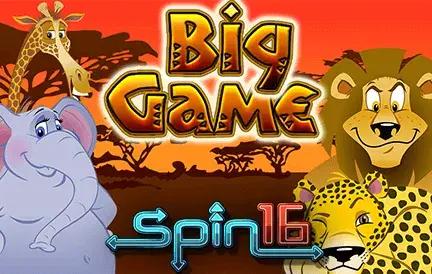 Venture into the vibrant African savannah with Big Game Spin16, a game that invites players to experience the wild like never before. Exclusively hosted at Red Dog Casino, this slot machine captures the essence of a thrilling safari adventure, right from the comfort of one's screen.
Big Game Spin16 is not your average wildlife-themed slot; it's an expedition into the heart of Africa. Each spin reveals iconic creatures from the continent: majestic lions, mischievous monkeys, and more. The sun-drenched plains form the backdrop, with every detail meticulously crafted to transport players straight to the African grasslands. Enhancing the experience is a rhythmic tribal soundtrack, pulsating with the beats of the wild.
Dive into the diverse features of Big Game Spin16:
The 'Golden Rhino' scatter symbols, initiating stampedes of rewarding bonuses.
Wild symbols embodied by the regal lion, promising roaring wins.
Multi-directional spins, allowing players to choose their spin direction for added excitement.
The 'Safari Streak' bonus game, offering a chance to track down and capture hefty rewards.
Navigating this slot machine is as breezy as a savannah wind. Its innovative design ensures that both seasoned gamers and safari newcomers can enjoy the Big Game Spin16 experience to the fullest. Plus, with a robust RTP, players are not only in for an aesthetic treat but also the lure of sizable jackpots.
In conclusion, Big Game Spin16 is a masterful blend of rich visuals, immersive gameplay, and tantalizing rewards. It offers a refreshing take on wildlife-themed slots, standing out with its unique spin feature. For those seeking a new kind of slot adventure or just a virtual safari expedition, Big Game Spin16 is the go-to destination. And the gateway to this African escapade? None other than Red Dog Casino.
Embark on this wild journey, and may your spins echo the call of the wild!