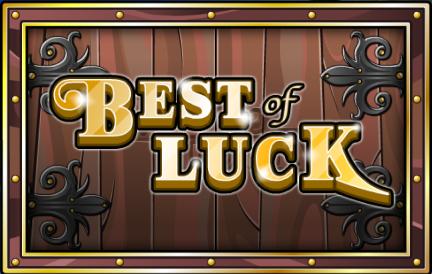 Step into a world where fortune favors the bold in Best of Luck, a captivating 5 by 3 slot game that beckons players to try their luck across 20 paylines. As you embark on this thrilling gambling adventure, you'll find yourself in a strange world of lucky charms, each holding the promise of untold riches. This game's enchanting theme centers on iconic symbols of luck, including the elusive rabbit's paw, the mystical wishbone, the timeless four-leaf clovers, the promising acorns, and an array of powerful lucky amulets.
But Best of Luck by Rival is more than just a slot game; it's an immersive experience. As you dive into the gameplay, you'll be greeted by a mesmerizing animated clip that sets the mood with a dark yet captivating atmosphere. The visuals and sounds combine seamlessly to create an ambiance that keeps you on the edge of your seat, eagerly anticipating your next spin.
With its engaging gameplay and the allure of fortune at your fingertips, Best of Luck slots is a slot game that promises excitement, intrigue, and the chance to strike it big. Are you ready to test your luck and uncover the treasures hidden within this mysterious world? Let's spin those reels and see if you can claim the title of the luckiest player in town!
Hauntingly Intriguing and Charming 
Best of Luck at Red Dog Casino skillfully weaves the theme of lucky objects into every aspect of its design. The game's symbols on the reels are a true testament to its commitment to evoking that mysterious sense of fortune and fate. From the delicate rabbit's paw to the sturdy wishbone, the elusive four-leaf clovers, the promising acorns, and an array of powerful lucky amulets, these symbols are beautifully rendered, capturing the essence of each item. 
But it's not just the symbols that impress. The background of the game adds an intriguing layer of depth. Set in a thrashed room cluttered with broken furniture, the dark and eerie atmosphere starkly contrasts the hopeful meaning of the symbols on the reels. The use of bleak and muted colors in the backdrop enhances the overall sense of mystery and excitement, drawing players deeper into the game's captivating narrative. Best of Luck creates a hauntingly immersive gaming experience through expertly crafted art and design.
Testing your Luck 
Acorns are the lowest prize, worth up to 25 coins, and you get prizes by landing 3 to 5 matching symbols. But good things come from little beginnings, and before long, you'll be moving on to lucky wishbones worth up to 40 coins and four-leafed shamrocks worth up to 65 coins. While lucky coins are worth 175 regular coins, finding a lucky rabbit foot might net you up to 100. Lucky horseshoes are worth up to 400 coins, Ladybirds are worth up to 700 coins, and if you locate some bunches of keys, you can open rewards for up to 275 coins. There are two enormous paytable prizes: snake-eyes necklaces worth up to 7,500 coins and jade elephants valued up to an astonishing 2,500 coins each. 
The lucky teddy bear charm serves as the game's Wild Symbol, and getting five of them on any active payline will make you feel fortunate because it awards 10,000 coins. Additionally, the Wild Symbols can switch out for any base game symbol to form lucrative paytable combos. With three symbols initiating four free games, four symbols triggering five free games with double rewards, and five symbols triggering six free games with triple winnings, the Bags of Gems symbols can start a free spins bonus. A bonus round immediately follows each free spin, and if you win it three times, you'll receive three additional free spins.
FAQ 
Is there a free play mode Best of Luck? 
Yes, you can play Best of Luck online slot for free. The game offers a free play mode, allowing players to enjoy all the excitement and thrills without any financial commitment. This demo is a great way to experience the game's features and test your luck before playing Best of Luck for real money. 
Is mobile play supported in the game? 
You can seamlessly use your phone or tablet to play without encountering technical difficulties, and you do not need to download an app for a smooth gaming experience. 
Are there customizable features in Best of Luck? 
The game menu adheres to modern standards and provides ample opportunities for personalization, allowing you to tailor the experience to your specific preferences.
Final Thoughts 
Best of Luck slot machine is an enchanting 5 by 3 slot game that immerses players in a world of lucky charms across 20 paylines. It offers a captivating gaming experience with its dark yet intriguing atmosphere and beautifully rendered art. Here is a short rundown of what we have already covered in this Best of Luck slot review.
Immersive Design: The game's symbols, including rabbit's paws and four-leaf clovers, are expertly designed to evoke a sense of fortune. The bleak and muted background in a cluttered room adds depth to the experience. 
Testing Your Luck: Various symbols offer different prizes, with the Wild Symbol being the lucky teddy bear charm, offering a chance to win 10,000 coins. Free spins and bonus rounds further enhance the excitement. 
Free Play Mode: Yes, Best of Luck offers a free play mode, allowing players to enjoy the game without financial commitment. 
Mobile Play: The game supports mobile play without downloading an app, ensuring a seamless gaming experience. 
With its engaging gameplay and immersive design, Best of Luck promises intrigue and the chance to strike it big. Will you be the luckiest player in town? Spin the reels for fun and find out!