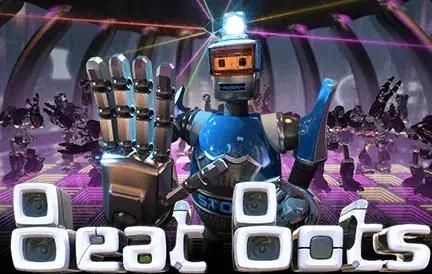 In a world dominated by technology, Beat Bots offers a tantalizing glimpse into the future, where robots rule the dance floor and beats are strictly electronic. Exclusively showcased at Red Dog Casino, this slot machine transports players into a digital realm where groovy robots and futuristic tunes set the pace.
Beat Bots is not just a game—it's a vibrant party set against the backdrop of a neon-lit city, bustling with robotic life. Each symbol, be it the DJ bot spinning records or the office bot lost in its rhythm, is meticulously designed and bursting with character. Complementing this lively visual display is an up-tempo electronic track, ensuring that players are tapping their feet with every spin.
Key highlights of Beat Bots include:
The shimmering 'Wild Bot' symbol, acting as a wild and jazzing up win combinations.
Scatters, represented by the 'DJ Bot', triggering free spin sessions.
The 'Robo Boogie' bonus round, offering players a chance to match bots for big rewards.
A high-energy design, ensuring that players remain engaged and entertained throughout.
This slot machine promises not only an audio-visual treat but also boasts an impressive RTP, making it a favorite for both novices and seasoned gamblers. The gameplay is smooth, and the user interface is intuitive, ensuring that players can focus on the dance and wins without any hiccups.
In conclusion, Beat Bots emerges as a delightful fusion of futuristic aesthetics and traditional slot mechanics. It's an electrifying journey into a world where bots breakdance and every spin has a rhythm. For those eager to join this robotic rave, Red Dog Casino is the ultimate venue.
Step in, sync with the beat, and let Beat Bots lead the way to a techno-tastic triumph!