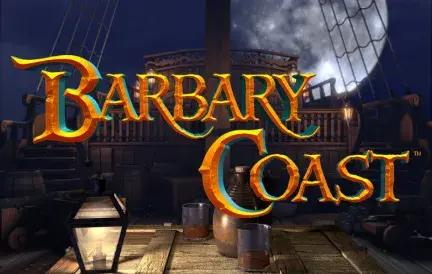 Are you a fan of Pirates of the Caribbean or Oceans in general? Are you fascinated by the pirate lifestyle and its thrill? If yes, the Barbary Coast by BetSoft is the game made for you.
The game is based on barbaric pirates and has a stellar intro that you shouldn't miss. Barbary Coast comes from BetSoft with 5 reels and 30 pay lines. All the reels are set on the pirate ship, and all the symbols are theme-related.
An adventurous gambler will find everything in this game, from sword fighting to finding buried booty. Moreover, the game has state-of-the-art graphics that enhance the gaming experience.
However, it is crucial to read our detailed Barbary Coast slot review before you play it to have a better chance of winning. 
Theme & Design 
The Barbary Coast slot is based on the popular and historic pirate theme loved by millions worldwide. Captain Black Beard and his squad are after a treasure and kidnap a damsel to find it. Your job in the game is to join their pirate fleet and help them locate the treasure.
However, you must also rescue the damsel and earn your share of the treasure. Black Beard, Ben Sawyer, and the Parrot, Cannon, and Grog are the main symbols of this game.
Beyond the standard gameplay, Barbary Coast offers a variety of engaging bonus features for fun. "Plunder the Treasure" is a mini-game that allows players to dig for hidden booty, while the "Duel at Sea" bonus round enables them to engage in epic ship battles for the promise of substantial rewards. The game comes to life with dynamic animations and immersive sound effects, including cannon fire and crashing waves.
Gameplay Features 
Paylines 
Depending on their betting strategy, players can bet on any number of these pay lines, from 1 to 30. Winning combinations are formed when matching symbols land on active pay lines.
Wild Symbol (Cannon)
When the cannon symbol appears on the reels, it can substitute for other symbols (except for scatters and bonus symbols) to create winning combinations on a slot machine. 
Bonus Rounds
Several bonus rounds can be triggered during gameplay. The "Click Me Dashing Sawyer'' bonus involves selecting a symbol to reveal instant prizes. The "Fight Bonus" is an interactive sword-fighting bonus game where you face off against the pirate captain.
Free Spins
Landing three or more parrot symbols on the reels triggers the free spins feature on a slot machine. Additional wild symbols are added to increase your winning chances. 
Grog Challenge
Another bonus feature is choosing a character for a drinking contest that helps you win different prizes depending on its performance.
Double Up Feature
After a standard win, you can gamble your winnings in a coin toss game. Guessing correctly can double your winnings, but an incorrect guess can wipe them out completely.  
Tips for Winning the Game 
Players betting on the Barbary Coast at Red Dog Casino with the minimum bet per line can enjoy a payout between 15 and 300 coins per sequence. On the contrary, a maximum bet line offers you prizes ranging between 75 coins and 1,500 coins per sequence.
Tips for Winning Barbary Coast Slot 
We can give you several recommendations to succeed in the Barbary Coast slot game:
review the game's paytable to understand the payouts and the rules for bonus rounds;
avoid chasing losses to control your finances;
consider betting on all 30 pay lines to maximize the winning probability;
take advantage of bonus rounds like free spins, Click Me Dashing Sawyer, and Fight Bonus;
slot games are based on random number generators, so no surefire winning strategy exists.
FAQ
Can I play Barbary Coast online slot for free?
Yes, free versions of Barbary Coast slots are available at several casinos. These are often called the demo versions and work perfectly for newbies who want to learn various dynamics of the games.
Can I play the Barbary Coast for real money? 
You can spend real money on the Barbary Coast slot if you have gained enough experience in the demo version. Learning the game first in the free version is always recommended before spending real money and trying to win any prizes.
Is the Barbary Coast slot available on smartphones? 
Yes, the Barbary Coast slot is optimized for smaller screens, enabling you to enjoy it on your mobile. However, the gameplay also depends upon the casino offering the game and whether it provides an app or its website works well on a smartphone. 
Conclusion 
The Barbary Coast slot is a shining example of BetSoft's commitment to producing high-quality and engaging games. This title is based on the pirate theme, which makes it a delight for those who love oceans and want to explore pirate life. From its story to the sound effects, everything blends perfectly to provide a stunning visual experience.
Moreover, the game is also filled with bonuses and rewards for those who want to make some good bucks. Make sure you choose the right casino and understand the rules of the games before spending real money on it.