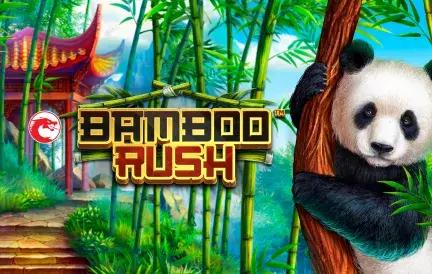 Step into the realm of Bamboo Rush at Red Dog Casino, an enthralling slot game crafted by the renowned software provider Betsoft. Teleport on a virtual journey through the untamed mountain paths of mainland China, unveiling a breathtaking, hidden garden inspired by the iconic panda bears native to this region.  
As the name suggests, Bamboo Rush promises an adventure brimming with lush bamboo, majestic mountains, and the delightful company of the beloved panda bears. The game unfolds on a 5-reel grid with an extensive 40 paylines, offering players a dynamic range of betting options that start from a modest 0.20 and ascend to a more daring 20 credits.
Read our Bamboo Rush slot review to learn more about the game!
Theme & Design 
Bamboo Rush by Betsoft mesmerizes with a visual spectacle that embodies the serene beauty of China's wilderness. The backdrop features a picturesque mountain path winding through a bamboo-covered landscape, creating a tranquil and mysterious setting. Adorned with vibrant greenery, the bamboo sticks form a magical garden, setting the scene for an immersive gaming experience.
As the reels unfold, players encounter charming panda bears and a rich tapestry of symbols, including royal icons, Yin Yang symbols, lotus flowers, golden coins, and ancient Chinese temples. Meticulously designed, each symbol contributes to the aesthetic coherence and thematic richness. Including wild multiplier symbols and golden panda scatters adds excitement, with bamboo-framed wilds carrying 2x and 3x multipliers, particularly impactful during the Free Spins bonus. Betsoft achieves a harmonious fusion of captivating visuals and thematic resonance in Bamboo Rush, immersing players in a realm where the allure of bamboo and the charm of panda bears converge for an enchanting gaming experience at Red Dog Casino.
Gameplay Features
Bamboo Rush slot machine loves extra features like Pandas love bamboo.
Golden Panda is a Scatter; it pays in any position. 
Bamboo Rush is Wild, and it can occur only on reels 2, 3, and 4 and substitute for any other symbols except for Scatters. 
During Free Spins, Bamboo Rush boasts wild symbols with 2x and 3x multipliers. Stacked symbols in the base game lead to generous payouts, with the potential for winnings up to 11,520x the player's stake. The Free Spins bonus, triggered by three golden panda scatters, offers 20 free spins with the possibility of retriggering. During Free Spins, wild symbols substitute other symbols and carry 2x and 3x multipliers, allowing for a maximum winning multiplier of 27x. 
You can press the Double Up button after any win to gamble your winnings (except after the Free Spins feature). Select the Gamble All or Gamble 50% button and bet Heads or Tails. If your guess is correct, you will double the stake.
Winning the Game 
The game's winning multipliers, reaching up to 27x the stake, contribute to impressive maximum payouts of 11,520x the player's stake. It translates to a substantial cash prize of $230,400 in a single spin. The 5x4 grid and 40 paylines provide ample opportunities for winning combinations. Additionally, the 'double up' game offers players a chance to bet all or half their winnings on a coin flip, adding an extra layer of excitement.
FAQ 
How many paylines does Bamboo Rush have? 
Bamboo Rush slots feature 40 paylines, providing numerous ways for players to achieve winning combinations.
Can I play Bamboo Rush online slot for free? 
The slot machine is available to play for fun in a demo version. However, if you want to win real cash, Red Dog Casino invites you to try Bamboo Rush for real money. The game is available on any mobile phone, tablet, or PC.
What is the maximum winning multiplier in Bamboo Rush? 
The maximum winning multiplier in Bamboo Rush is an impressive 27x, achieved through wild symbols during the Free Spins bonus.
Conclusion 
The Bamboo Rush slot game offers a visually stunning and rewarding gaming experience. The thematic design and the exciting gameplay features make it a standout slot game. With the potential for significant payouts and engaging bonus rounds, Bamboo Rush is a must-try for casual players and avid slot enthusiasts. The combination of wild multipliers, free spins, and the 'double up' feature adds layers of excitement, ensuring an entertaining and potentially lucrative adventure through the enchanting wilderness of China.
Betsoft has once again delivered a top-notch slot game that captivates players with its aesthetics and keeps them engaged with its thrilling features. Embark on this bamboo-filled journey at Red Dog Casino and discover the riches hidden within the magical garden of Bamboo Rush.