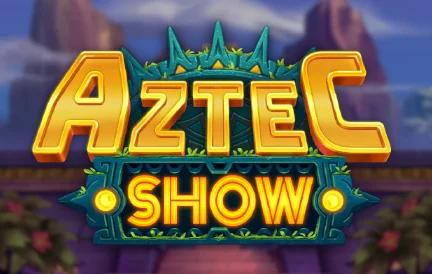 Welcome to the heart of the jungle and the epicenter of thrill – the Aztec Show by DiceLab! Every spin here is a step deeper into the enigmatic world of the Aztec civilization. Marvel at intricately designed symbols echoing ancient rituals, temples, and the rich culture of a once-mighty empire. Mystical wilds? Check. Legendary bonuses? Absolutely. Each feature is a nod to the mighty Aztec gods, who are waiting to bestow upon you golden rewards! 
So, are you ready to delve into history and emerge with treasures untold? Strap on your explorer boots, ignite your spirit of adventure, and let us take you through our Aztec Show slot review to equip you with all the crucial information! 
Theme & Design 
As soon as the slot machine loads, you're whisked away to an era where the majestic Aztec temples reigned supreme. Towering in the backdrop, bathed in the soft glow of twilight, it promises tales of courage and mystique. Flanking this architectural marvel are the blooming palm trees, their leaves rustling like whispers of ancient secrets. 
But it's not just the backdrop that steals the show! Each reel is a canvas in itself, encased in meticulously carved stone frames that resonate with the echoes of time. Dive deeper, and the color palette dazzles you - a medley of earthy hues reminiscent of sun-kissed terrains and twilight's embrace. The graphics? It is so vivid you can almost feel the textures. And when those animations come to life, it's like the very soul of the Aztec civilization is dancing on the screen. 
Every pixel, every frame is designed not just to entertain but to immerse. The synergy of top-notch graphics with a harmonious color palette ensures that your journey through this slot game isn't merely about spinning reels but about experiencing a whole era. 
Core Gameplay & In-Game Extras 
First, let's unravel the tapestry of regular symbols and their tantalizing values.  
| | | | |
| --- | --- | --- | --- |
| Symbol Name | X3 | X4 | X5 |
| 10, J, Q | $ 0.10 | $ 0.20 | $ 0.50 |
| K, A | $ 0.15 | $ 0.30 | $ 0.60 |
| Stone square | $ 0.25 | $ 0.50 | $ 0.75 |
| Stone circle | $ 0.35 | $ 0.75 | $ 1.00 |
| Blue mask | $ 0.50 | $ 1.00 | $ 1.50 |
| Orange mask | $ 0.75 | $ 1.50 | $ 2.50 |
And that's just the tip of the Aztec pyramid! A carnival of extra features and special symbols awaits your discovery. 
Wild symbol — May land on the reels 2-4 and substitute for all symbols, creating more winning combos. 
Free Spins symbol — Landing 2 or more FS symbols triggers the exciting Free Game feature. May only land on the top row's reels 2-4 during the base game. 
Multipliers Hunt — Lands on the top row's reels 2-4 to multiply all ways wins on the screen. If more than one multiplier lands on the row, their multiplying values are summed up. Active during base game only. 
Free Game feature — During this round, the grid enlarges to 4x5, increasing the payways number from 576 to 1024! Additionally, you may be awarded up to 50 Free Spins. The number of Free Spins awarded depends on the number of triggering Free Spins symbols, where 2 of them grant you 15 FS and 3 = 50 FS! Since both the Free Spins symbol and Multipliers don't show up on the reels during the Free Game round, this feature cannot be retriggered. 
Impressive, isn't it? This massive pack of in-game extras guarantees hours of enthralling gaming experience! 
FAQ 
Can I play the Aztec Show for free? 
Absolutely! Dive in and play Aztec Show online slot for free in demo mode. It's a chance to familiarize yourself with its quirks and have some relaxed, fun gameplay. Once its charm has fully captivated you, and you're primed for some real action, transition to the Aztec Show for real money and experience the full mode in all its glory.
Is Aztec Show compatible with smartphones? 
Yes! Our top-notch mobile version is finely tuned for iOS and Android devices. We understand the importance of providing players with a seamless experience; thus, it will match any screen size, allowing you to play Aztec Show at Red Dog Casino regardless of your whereabouts.
What's the deposit range and RTP (Return to Player) rate in Aztec Show? 
The amount you can place ranges between $0.2 and $100, and the RTP rate equals 96.12%, considered an average. 
Verdict 
Aztec Show slots emerge as a shining jewel in the vast arena of slot games. Transporting players to the heart of the Aztec civilization, its breathtaking graphics, vibrant animations, and masterful visual design stand testament to its caliber. Beyond the aesthetics, its gameplay intricately weaves historical charm with modern gaming prowess. And with a plethora of special features on offer, every spin promises not just entertainment but an enthralling and rewarding journey. So why just read about it? Jump in and let the Aztec allure captivate you!