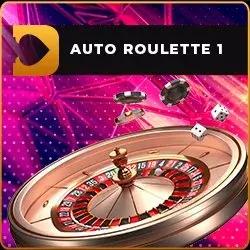 Roulette, with its spinning wheel and betting possibilities, has always been a casino game that oozes elegance and excitement. FreshDeck's offering, AutoRoulette, brings this timeless game to the online realm with a twist that is sure to entice both new and seasoned players.
AutoRoulette, as the name suggests, offers an automated roulette experience, ensuring speedy gameplay without compromising on the thrill. The absence of a live dealer is made up for by the game's precision-engineered mechanics that guarantee fair play and a seamless experience.
The graphics of FreshDeck's AutoRoulette are impeccable, capturing the gleam of the roulette wheel and the smooth roll of the ball. The ambient sounds make it feel as though you're right in the middle of a bustling casino, creating an immersive atmosphere.
Key features of AutoRoulette on FreshDeck include:
1. Swift and automated gameplay.
2. High-definition graphics and sound effects.
3. User-friendly interface tailored for both beginners and experts.
4. Integration with mobile platforms for on-the-go gaming.
5. Transparent mechanics ensuring trust and fairness.
While some players might miss the human touch of a live dealer, the efficiency and pace of AutoRoulette provide a unique gaming experience. It's perfect for those who prefer a quick game without waiting for dealer interactions.
The association of FreshDeck with Red Dog Casino further solidifies the game's credibility. Players familiar with Red Dog Casino know it stands for quality, fairness, and customer satisfaction. Thus, when indulging in AutoRoulette, one can be assured of a top-tier gaming session.
In conclusion, FreshDeck's AutoRoulette is a modern marvel in the world of online casino games. It manages to preserve the essence of traditional roulette while offering the conveniences of automated gameplay. For those looking to try a new spin on a beloved classic, this game is a must-play.