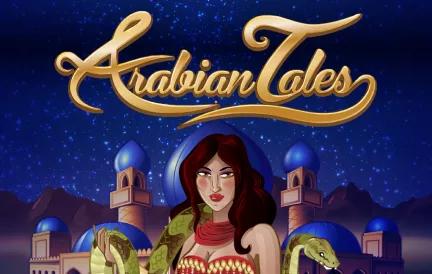 The desert winds sing of treasures unimaginable, buried beneath an ocean of sand… Welcome to yet another reimagining of Aladdin, Disney's all-time classic. More than a decade has passed since its release, so it's safe to label Arabian Tales by Rival Gaming a vintage game. Even back in the day, one couldn't seriously claim the slot game explores a particularly original premise, but Rival is known for making the most out of seemingly pedestrian ideas. 
Upon scrutiny, you'll be quick to conclude you're dealing with a relatively simplistic specimen - the approximate RTP of the slot machine equals 93% (as claimed by the developers), it offers frequent payouts of modest amounts owing to its low volatility and has 50 paylines across 5 reels.  
Design & Layout 
If you can imagine what Disney's Aladdin would look like if remade in some of the first versions of Photoshop, you'll be pretty close to the reality of Arabian Tales. The graphics do have some strange, if nostalgic, allure to them, but you can't seriously hope those can compete with modern titles. Does the imagery set the right mood? Definitely so. Do the characters have some small unique traits to them? Yes, enough to stand out from their cartoon counterparts.  
Basic Rules 
Arabian Tales could be the first online casino game you've ever seen, but with its one-button gameplay and the absence of non-conventional mechanics, you'll be an expert in 5 minutes. The chart and the pay table you'll see in the game's instructional pop-up demonstrate the combinations and their value, but you shouldn't worry about that too much, let alone learn them by heart - what's happening on the screen is purely random. 
Bonus Features 
Apart from combinations in the chart, you can expect to hit Wilds and Scatters, which are both omnipresent elements of slot games. The former does some multiplying magic for you, while a sufficient number of the latter on the playing board will trigger up to 50 free spins. 
FAQ 
What starting investment would enable me to play Arabian Tales for real money?  
Neosurf users are at an advantage here, as $10 is all it takes, while the amount progressively increases to $20 for crypto deposits and $30 for credits. Arabian Tales at Red Dog Casino is sadly not eligible for any dedicated bonus offers, but you can still boost your odds by claiming one of the active Match power-ups. 
How does one properly play Arabian Tales online slot for free? 
It couldn't have been easier. If you already have a Red Dog account, it is best to log out and refresh our main page. It will set the website to guest mode, and any game you decide to test will only launch as a demo. Use the search-by-name feature to locate the game, but don't expect to win cash while playing the trial version. 
Can the Arabian Tales slots still be played on mobile phones? 
Yes, and the best part about it is that you don't need any apps, emulators, or other workarounds. So even though the Flash tech is a thing of the past, Rival has done a pretty impressive job of adapting their legacy titles to seamless functioning in today's portable device browsers. 
Verdict 
The older titles by Rival Gaming have a very special feel to them. Even if you're a player representing a younger generation, you may still find the experience eerily charming. This Arabian Tales slot review can't possibly convey all the warm memories that the game stirred in us, so don't walk by and give this title a chance - aged as it is, Arabian Tales still packs a little something for everyone.