Alpha Squad Origins Captain Shockwave Video Slot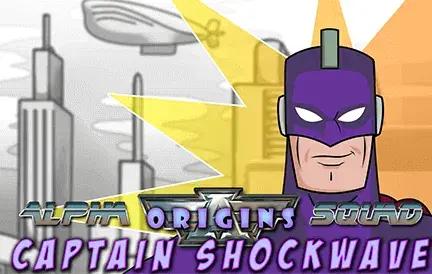 Dive deep into a world of superheroes and epic battles with Alpha Squad Origins Captain Shockwave, the latest action-packed offering at Red Dog Casino. This slot machine is a thrilling journey, inviting players to join forces with Captain Shockwave in his quest to maintain justice and order.
Alpha Squad Origins Captain Shockwave is no ordinary game; it's an adventure. Set against a futuristic cityscape, the backdrop teems with life, showcasing a metropolis in need of a hero. The slot symbols, comprising gadgets, villains, and of course, the valiant Captain Shockwave himself, add depth to the narrative, making every spin a chapter in this superhero saga.
But the allure of Alpha Squad Origins Captain Shockwave goes beyond its captivating storyline. This game is laden with supercharged bonus features, all designed to escalate the gameplay from exciting to electrifying. From sonic boom wilds to photon ray free spins, every feature adds a layer of intrigue and potential rewards.
Key Features:
Superhero Saga: Delve into a captivating narrative where Captain Shockwave reigns supreme.
Dynamic Bonuses: Engage in gameplay elements that echo the heroics of our central character.
Epic Soundtrack: Intense and riveting tunes that perfectly complement the game's theme.
In essence, Alpha Squad Origins Captain Shockwave is a masterclass in combining storytelling with slots. It seamlessly weaves a tale of heroics while ensuring players remain at the edge of their seats with its unpredictable gameplay. If you've ever dreamed of joining a superhero in his quests or simply want a gaming experience unlike any other, then it's time to suit up and head over to Red Dog Casino. Alpha Squad Origins Captain Shockwave awaits your alliance!