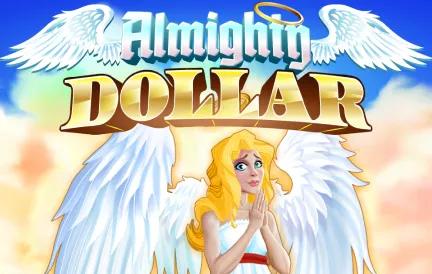 Have you ever dreamt about buying yourself a comfy place in the Garden of Eden rather than adhering to the ten Commandments, fasting, and all that? Almighty Dollar by Rival Gaming seems to be an exercise in philosophy disguised as a slot game, but we're only here to establish its value from the gaming perspective. 
Technically speaking, we're dealing with a 5x3 playing board, an algorithm of medium volatility, and an RTP of about 95%, which is fairly standard for Rival games released in the 2000s - and most slots of the era, for that matter. Time to find out whether the game has anything special to it. 
Theme & Graphics 
If Rival Gaming wanted to hint that top dollar will somehow get you into God's abode, we're not going to debate this, so let us focus on the game's imagery instead. The design of the slot machine is all over the place, and we're not quite sure what to make of it. Surely enough, the afterlife and heaven don't make for the two most obvious choices when it comes to slots, even if approached ironically, but you can't deny that it all at least looks decent and in line with the chosen style.  
Basic Rules 
The game's setup allows you to count on a top award of about $2500, which is possible if you bet the maximum amount of coins (15) and ramp up the wager on each to $5. After adjusting your betting preferences, all you are left with is pressing the Spin button and reclining back in your armchair. There's even an auto-play function for those who prefer not to practice fine motor skills on any trifling occasion. Almighty Dollar is quite stingy regarding special symbols, and the only icon that stands out somewhat is the Triple Wild. 
Advanced Rules  
The free spin bonus is the only extra feature you'll see in Almighty Dollar, and it is triggered by hitting two or three Scatters, resulting in 7 or 21 spins, respectively. The only peculiar feature about it is that the Wilds keep doing their thing and triple your wins, just like in normal mode. 
FAQ 
Is there a minimum deposit that would allow me to play Almighty Dollar for real money? 
Just like any other game on our website, Almighty Dollar can be played for real with as little as $10 to $30, depending on what banking method you go for. Please see our Banking page for more details. 
How do I play Almighty Dollar online slot for free? 
All our games support the demo feature so that new visitors can see what our catalog amounts to without limitations and play any game for fun. So log out from your Red Dog account, reload the main page, and you'll get all the games to launch in trial mode (note that you can't win cash while playing with a virtual budget). 
Is there a way to play the Almighty Dollar slots on portable devices? 
No problem with that. The game files are so deeply ingrained into the online casino framework that they do not require any additional adaptation, even when the technology they're built on (like Flash, in this case) becomes a thing of the past. So just drop by from any mobile browser and enjoy a few rounds of Almighty Dollar at Red Dog Casino! 
Verdict 
There is not much to add to this Almighty Dollar slot review - the game's as simple as it comes, and some will agree that it makes the game's most notable merit. With the existing supply of newer and arguably more sophisticated titles, Almighty Dollar may still remain a sought-for game, albeit in a very limited player circle. For us, revisiting this Rival game more than a decade later proved to be more of a nostalgia trip than anything else.