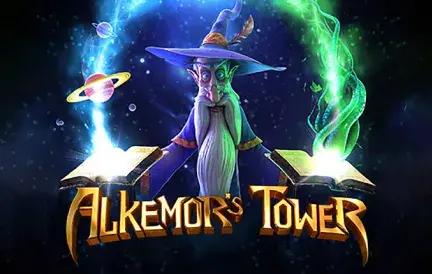 Alkemor's Tower by Betsoft is a captivating video slot that unfolds in the mystical realm of magic and sorcery. With 243 pay-lines across 5 reels, this game promises an enchanting experience for players seeking a magical adventure. The narrative centers around Alkemor, a wizard whose castle tower serves as the backdrop for the game. The graphics are impressive, complemented by animations that elevate the overall visual appeal. Whether you choose to play Alkemor's Tower online slot for free in a demo version or dive into real-money action, this game beckons you into a world of wonder.
Read on our Alkemor's Tower slot review to find out why you should try it right this second!
Theme & Design
Alkemor's Tower is a visual delight, transporting players into a realm of enchantment. Set within the confines of Alkemor's castle tower, the reels are graced by the wizard himself, adding a charismatic touch to the gameplay. Intricately designed symbols aligned with the magical theme immerse players in an atmosphere of wonder. The fusion of top-notch graphics and captivating animations transforms this video slot game into a delightful spectacle.
Every spin is a visual journey, with the reels adorned by meticulously crafted symbols that resonate with the essence of magic. The animations, from cascading water to ground-shaking meteors, elevate the gameplay, making it an engaging and enchanting experience. Alkemor's Tower isn't just a slot; it's a captivating visual narrative where magic and technology converge, making each moment a delightful spectacle for players.
Gameplay Features
The gameplay of Alkemor's Tower is rich with features that add depth to the magical journey.
Elemental Spells involving Air, Fire, Water, and Earth symbols introduce dynamic changes to the reels when triggered. Each elemental spell brings its unique visual spectacle and transforms symbols into Wilds, enhancing the potential for big wins:
Water Elemental Spell - The Spell Book in reel 1 transforms into the Wild, with wins recalculated and multiplied;
Earth Elemental Spell - A shower of meteors crashes onto the reels, destroying symbols and allowing new ones to fall into place;
Air Elemental Spell - Summoning a colossal tornado that blows basic symbols off the board, rearranging them into new positions;
Fire Elemental Spell - Igniting a blaze that turns Elemental and Spell Book symbols Wild, with extra Wwilds added for more winning opportunities.
The Free Spins feature, activated by landing specific combinations of Spell Books, transports players to magical environments (Nature Floor and Celestial Floor) with additional rewards and unique features. Landing the designated symbols, as outlined in the paytable, transports players to these enchanting environments, where additional prizes await. Depending on the number of Elemental symbols spun, players can earn 10, 12, or 15 free spins, each floor featuring unique symbols not found in the main game.
The Nature Floor brings the chance to spin the Vine symbol, devouring neighboring symbols for fantastic wins. The Black Hole symbol does the same on the Celestial Floor, creating an immersive experience with every spin.
In addition, the game offers a Gamble Feature, a coin toss where players guess heads or tails to double up their winnings, adding an extra layer of excitement to this magical journey.
Winning the Game
The slot machine has 243 ways to win; it provides ample opportunities for players to secure substantial payouts. To win while playing Alkemor's Tower slots, we recommend the following:
explore the Elemental Spells;
profit with two Free Spin floors - the Nature Floor and the Celestial Floor;
use the Gamble feature judiciously, considering the risk involved.
FAQ
How do I activate the Elemental Spells feature?
Combine Spell Books on reels 1 and 2 to activate Elemental Spells with an elemental symbol on reel 3.
How can I play Alkemor's Tower for real money?
Create an account at Red Dog Casino, make a deposit, and play the game for fun at any time of the day and night.
Is there a mobile version of Alkemor's Tower available?
Yes, Alkemor's Tower is accessible on mobile and tablet devices, providing flexibility for players.
Conclusion
Alkemor's Tower at Red Dog Casino is a testament to Betsoft's commitment to delivering immersive and engaging gaming experiences. The magical theme and innovative gameplay features set this video slot apart from the crowd. The combination of stunning visuals, many bonus elements, and the chance to win big makes Alkemor's Tower a must-try for players seeking a magical journey through the world of sorcery. Enter Alkemor's Tower, explore its enchanting elements, and let the magic unfold on the reels as you strive for the jackpot and embrace the wonders that lie within.