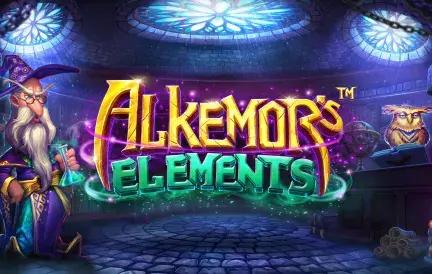 Step into a world of enchantment and mystique with Alkemor's Elements by BetSoft, a mesmerizing online slot game that blends the captivating themes of alchemy and magic. The game centers around the illustrious magician Alkemor, whose wisdom and mastery of the mystical arts serve as your guide through this enchanting journey. As you embark on this magical quest, prepare to be awestruck by the extraordinary production values that Alkemor's Elements offers. The attention to detail in the game's design is nothing short of astounding, with every symbol exquisitely crafted to transport you to a realm where magic and alchemical wonders abound.
The playing field comprises 5 reels, 4 rows, and 25 betlines, setting the stage for a thrilling gaming experience. With its medium volatility, Alkemor's Elements offers a chance to win up to 1,200 times your bet, ensuring that every spin promises significant rewards.
While the theoretical RTP of 95.45% may be slightly below the industry average, the enchanting world of Alkemor's Elements is sure to keep you spellbound, and the potential for substantial wins makes it an enticing choice for anyone seeking a magical gaming experience. Join us as we delve deeper into the mesmerizing world magic in our Alkemor's Elements slot review.
Inside the Laboratory 
The graphics of Alkemor's Elements are a testament to the game's commitment to its unique theme and aesthetics, with intricate and beautifully detailed symbols representing various magical and alchemical elements. The reels come alive with vibrant colors and stunning animations, bringing a touch of magic to every spin. From the mystical backdrop to the captivating character of Alkemor himself, the game's aesthetics are a feast for the eyes. With its impeccable design, Alkemor's Elements offers players an immersive and visually stunning experience, making it a true standout in the realm of online slot gaming.
Let's Get to Brewing! 
The game may seem complicated at first, but it isn't. To make things easier for the new apprentices, we have gathered all the information you need to successfully start mixing concoctions at Alkemor's Elements slots. If you feel this is still insufficient, the developer provides a demo mode you can access through the menu and play Alkemor's Elements online slot for free. 
Symbol Variety: Alkemor's Elements at Red Dog Casino boasts a wide range of symbols, including card ranks from Tens to Aces as low-paying symbols, while high-paying symbols feature magical ingredients, crystal orbs, scrolls, owls, and the esteemed Alkemor himself. 
Elemental Flasks: Four elemental flasks are central to the game. These flasks, when combined, can pay handsomely, offering 4 times your bet for a combination of five. They also serve as Wild symbols. 
Key Scatters: Landing 3, 4, or 5 Key Scatters triggers the Free Spins feature, awarding 8, 10, or 12 free spins, respectively. Each free spin includes one of the four Elemental Spells, greatly increasing your chances of winning. 
Elemental Cycles: The game is structured in cycles of 10 paid spins, known as Elemental Cycles. Players collect flask symbols to fill vial-shaped progress bars on the right side of the screen. 
Elemental Wilds Spins: After an Elemental Cycle, players receive a series of Elemental Wilds Spins, the number of which corresponds to the most frequently collected flask symbols. Each of these spins comes with one of the four Elemental Spells, enhancing the excitement and rewards. 
Buy Feature: For those seeking immediate action, Alkemor's Elements slot machine offers a Buy Feature, allowing you to purchase 12 free spins for 56 times the set stake, providing a shortcut to the enchanting world of magic and alchemy. 
FAQ 
Is Alkemor's Elements available for mobile play? 
Yes, Alkemor's Elements is fully optimized for mobile access, ensuring that you can easily enjoy this enchanting slot game on your smartphone or tablet. The magic is at your fingertips whether you're on the go or lounging at home.
How do the Elemental Spells work during Free Spins? 
During Free Spins, each spin includes one of the four Elemental Spells. These spells can enhance your gameplay in various ways, such as adding flask symbols to reels, creating potential for massive wins and an exhilarating gaming experience.
Is the Buy Feature worth using in Alkemor's Elements? 
The Buy Feature is an excellent option for players seeking immediate excitement. For 56 times the set stake, you can purchase 12 free spins, skipping directly to the game's most thrilling moments and a chance for generous rewards. But remember that you are playing for fun first of all!
Verdict 
Alkemor's Elements offers a magical gaming experience, seamlessly blending alchemy and magic in a visually stunning package. With its variety of symbols, engaging mechanics, and mobile accessibility, this slot game casts a spell that's hard to resist. Whether you're drawn to the enchanting world of elemental spells or the potential for significant wins and playing Alkemor's Elements for real money, players of all levels can partake in its mystical journey and discover the allure of its secrets.