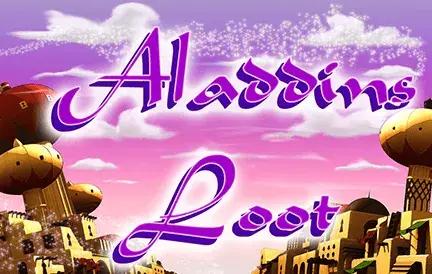 In a world filled with enchantment, where flying carpets soar through starlit skies and golden lamps hold mysteries untold, comes a slot game that will whisk you away on a magical journey. Introducing Aladdin's Loot by Saucify, a game that plunges players straight into the heart of Arabian nights, drawing inspiration from the timeless tale of Aladdin and his mystical adventures. Every spin carries a promise of treasures hidden deep within ancient desert cities, echoing the allure of the enchanting story we've all grown to love.
The heartbeats of online casino enthusiasts are bound to race faster as the reels unveil their iconic symbols, from the mischievous monkey Abu to the gorgeous Princess Jasmine and the almighty Genie, waiting to grant your every wish. And let's remember the elusive magic carpet, ready to take players on a whirlwind ride toward hefty payouts! Now, let's proceed to the next section of Aladdin's Loot slot review and have a deeper look. 
Visual Theme & Design 
The visual design of Aladdin's Loot slots offers a delightful journey into the heart of Arabian lore. With a background featuring Arabian palace towers under a vast expanse of blue skies, the game sets a calming yet majestic scene. The towers' intricate designs and the soft hues of the sky highlight the attention to detail and dedication the creators have poured into crafting this game's atmosphere.
Animations are seamlessly integrated, adding a touch of finesse to the overall gaming experience. They are smooth and tastefully executed, enhancing the visual appeal without being overly flashy. Their subtle charm is a gentle reminder of the game's quality craftsmanship and the developers' commitment to creating a visually refined slot experience. 
In the vast landscape of slot games, the visual coherence and thoughtful design of Aladdin's Loot set it apart. By striking a balance between rich traditional motifs and modern graphics, the game offers a visually engaging experience that underscores the core narrative, ensuring players remain entertained and informed during gaming sessions. 
Inner Workings & Special Features 
Aladdin's Loot is a 5x3 slot machine with 25 paylines. All wins are awarded from left to right, except for Scatters, which pay in any position. Payline victories get multiplied by the bet per line. Wins from Scatters get multiplied by the overall bet, and Scatter rewards are added to payline wins. For every active payline, only the top win is rewarded. 
Wild Symbol — In this slot machine, the Wild Symbol substitutes for all other symbols except for the Scatter. 
Scatter Symbol — Scatter wins are multiplied by total credits wagered and are paid in addition to payline wins. 
Free Spins feature — Landing 3, 4, or 5 Golden Lamps will trigger the feature and provide the player with 10, 15, and 20 Free Spins, respectively. The feature can be re-triggered while active, and all the wins are multiplied by two! 
FAQ 
Can I Play Aladdin's Loot without depositing real money? 
Yes, for sure! One of the best ways to familiarize yourself with the vibrant world of this game is to first play Aladdin's Loot online slot for free using the demo version. Doing so allows you to immerse yourself in its captivating environment purely for fun without financial commitment.  
This approach allows you to appreciate its unique features and understand the game dynamics. And remember, the transition is effortless. When you feel the time is right and you've grasped the gameplay, you can smoothly transition to playing Aladdin's Loot for real money. It's all about pacing yourself and enjoying every moment! 
How many paylines are in Aladdin's Loot? 
This slot machine features 25 paylines and comes with several in-game extra features designed to amplify your winnings and enhance the overall gameplay experience. 
Is Aladdin's Loot mobile-friendly? 
Absolutely! The enchanting realm of Aladdin's Loot at Red Dog Casino is tailored for players who value seamless gaming experiences. Recognizing the importance of flexibility in today's digital age, our casino has invested in a high-quality mobile platform. This commitment guarantees that Aladdin's Loot runs impeccably, whether you're accessing it via a smartphone or tablet. 
Summary 
Now, let's make a verdict and recall all the strong sides of this enthralling slot machine. The artful visual design, combined with mesmerizing palace silhouettes, evokes the wonders of Arabian nights with every spin. The special features, intertwined with a generous 25 paylines, offer both novices and seasoned players ample chances to multiply their winnings. In Aladdin's Loot, each gaming session feels like an adventure, blending smooth mechanics with the thrill of chance, ensuring every player leaves with some magic in their pocket.