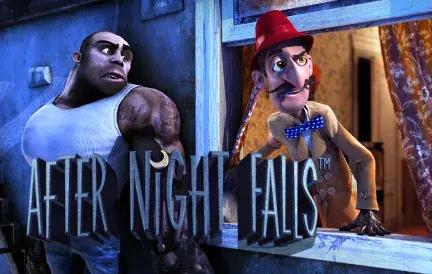 There's something endearing about inept detective comedy characters, which is why some long-running movie franchises like Taxi and The Pink Panther are held in high regard by many viewers worldwide. If you're a fan of either, rejoice - After Night Falls by Betsoft Gaming is basically a parody police flick in a slot game wrapping! Since we're on the case, let's see the classified files on the culprit: 
top award of 1,250 Coins; 
30 fixed paylines on a 5x3 playing board; 
medium volatility (balanced win frequency and payouts); 
Free Spins, Moving Wilds, 5 Rooms Click Me, Double Up, Bonus Round, and Stacked Collapsing Wins bonus features. 
5 extra features in one game? My, we're dealing with a cunning and resourceful mischief maker! Grab your magnifying glass, put on a tartan deerstalker, and prepare to investigate this After Night Falls slot review! 
Design & Graphics 
The slot machine uses a comparatively rare art style that relies on static images created from 3D renders and pulls it off with flying colors. The Inspector's character looks both goofy and imposing, while his thieving arch-nemesis is a hulking brute with scheming written all over his face. There are also plenty of other memorable characters, such as the Witness Grandma, who plays a great part in the game's bonus system, and the Smug Cat, who has seen everything but won't tell anyone. 
Core Gameplay 
The game's normal mode is no less entertaining than its bonus features, and you'll find yourself amused at all times with the help of the following special symbols:
Moving Wilds. The player must land the magnifying glass symbol on any reel to activate the feature. The magnifying glass will then move one reel to the left on each free spin, acting as a wild symbol along the way. You'll keep getting free spins as long as the magnifying glass is on the screen! 
Double Up. A classic slot machine feature that allows you to double your winnings after any winning spin. Once you've activated it with a designated button, you'll be taken to a secondary screen where you'll need to predict whether a coin toss will land on heads or tails. If your prediction is correct, you'll multiply your winnings by two. 
In-Game Extras 
What happens in the bonuses department can only be described as an endless prize fest, made possible by the features below: 
Free Spins Scatter. Land 2 or more Scatter symbols on any reel to activate the mode. Each time you spin, a random multiplier is applied, so you have the potential to win big on every spin! The number of free spins you're awarded depends on how many Scatters you landed, ranging from 10 to 25. 
5 Rooms Click Me. Once the feature is triggered, you'll see a screen with 5 doors. Choose a door to let the thief into the apartment. He will then steal valuables from the tenant. Keep selecting rooms until the word "Collect" is displayed. 
Bonus Round. 3 Granny symbols take you to a crime scene. You'll be presented with a series of areas to inspect. If you choose an area containing a clue, you'll be rewarded with a bonus. The value of the bonus reward will depend on the type of clue you find. 
FAQ 
What does it take to play After Night Falls for real money? 
Take a moment to create your Red Dog account, claim the Welcome Bonus, and make the first deposit - that's literally it! 
Is it an option to play After Night Falls online slot for free? 
Yes, the demo can be found on numerous casino review sites that allow playing for fun.  
How do I enjoy After Night Falls slots on the go? 
The game's mobile version is readily available in your smartphone browser - no extra download is needed! 
Verdict 
As detailed as it is, this review barely does justice to the game's multifaceted and entertaining nature. The title is a treasure trove of bonus mechanics you will appreciate regardless of your experience level. Come play After Night Falls at Red Dog Casino for thrilling slot action with classic French detective fleur!