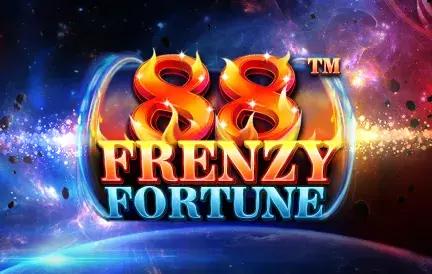 Embark on an interstellar journey with the 88 Frenzy Fortune slots, a creation of the renowned Betsoft. Known for its visually stunning 3D graphics and a plethora of popular titles, Betsoft has crafted a unique experience with this cosmic-themed slot game. The innovative 4-reel design adds a refreshing twist to the gameplay, challenging traditional slot norms and offering a unique grid structure that keeps players on the edge of their seats.
This Frenzy Fortune slot review will explore the game's features, design, and winning potential.
Theme Design
Set against a backdrop of shooting stars and fiery black holes, the 88 Frenzy Fortune by Betsoft offers a visually captivating experience. The slot game features a departure from the norm with 4 reels and 1 fixed payline. The seemingly sparse grid may take some time initially, but the cosmic aesthetics and vibrant red and blue flames spinning on cascading reels add an exciting twist to the gaming experience.
Gameplay Features
The 88 Frenzy Fortune slot machine stands out with its medium volatility and a respectable RTP of 96%. The unique aspect lies in the 4th reel, reserved exclusively for bonus features. Here, players can trigger random prizes ranging from 8x to 18x the initial stake, multiplier boosts of 2x, 5x, or 8x, and the lucrative re-spin feature.
The re-spin feature, undoubtedly the most profitable, awards players an additional spin with up to 5 available in total. It can lead to a cascade of winnings, with 4x random multipliers applied to each subsequent win. The diverse bonus reel ensures that each spin holds the potential for significant game-changing effects.
Winning the Game
88 Frenzy Fortune at Red Dog Casino offers a betting range from 0.06 to 30 credits, making it accessible to many players. The lucky number 8 plays a significant role, with the potential for substantial wins:
Red 88: 177.60x;
Gold 88: 33.60x;
Silver 88: 13.60x;
Two Koi Fish: 7.60x
One Koi Fish: 3.60x;
Any Three 88: 25x;
Any Three Koi Fish: 1.20x;
Any Three Symbols: 0.60x.
The bonus reel introduces another layer of excitement, providing opportunities for multipliers, respins, and substantial boosts to the initial wager. With a maximum win potential of up to 2,386x the initial stake, players can reap cosmic-sized rewards.
You only need to utilize the unique features on the 4th reel to maximize your winning potential.
FAQ
What makes the 88 Frenzy Fortune slot unique?
The game's uniqueness lies in its 4-reel structure, cosmic theme, and a bonus reel with various game-changing features.
What is the maximum win potential at 88 Frenzy Fortune for real money?
Players can win up to 2,386x their initial stake, making every spin a potential cosmic jackpot. However, if you play 88 Frenzy Fortune online slot for free in a demo mode, you won't be able to earn real cash.
Can I play 88 Frenzy Fortune on my mobile?
Absolutely! The game is 100% responsive, allowing you to enjoy it for fun on your iOS, Windows, and Android smartphone and tablet.
Conclusion
88 Frenzy Fortune provides a stellar gaming experience and takes players on an otherworldly adventure filled with excitement and cosmic wonders. The cosmic theme, the innovative 4-reel design, and the bonus features create an engaging atmosphere for players.
What truly sets 88 Frenzy Fortune apart is the inclusion of a bonus reel, adding an extra layer of unpredictability and thrill to each spin. The bonus reel's random prizes, multipliers, and re-spin features create a dynamic and ever-changing gameplay experience. This innovative addition ensures that every moment spent with the game is filled with anticipation as players eagerly await the cosmic surprises that may unfold.
So, strap in and prepare for a cosmic adventure with 88 Frenzy Fortune! Whether you're a seasoned slot enthusiast or a casual player looking for something out of this world, this game promises an unforgettable journey through the vastness of space, where every spin could lead to cosmic-sized rewards. With its engaging theme, innovative design, and the potential for substantial payouts, 88 Frenzy Fortune is undoubtedly a shining gem in the constellation of online slot games.