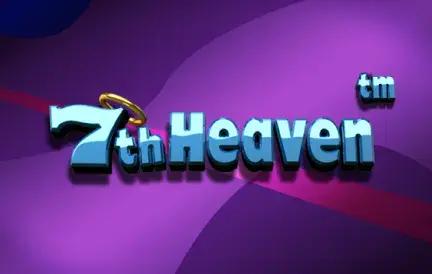 At the heart of classic casino gaming lies 7th Heaven, a gem in the extensive collection by Betsoft Gaming. This timeless slot, adorned with simplicity and elegance, boasts a 5-reel, 18-payline design. As part of Betsoft's SLOTS3 series, 7th Heaven promises a traditional yet captivating experience.
This 7th Heaven slot review delves into the game's theme, design, gameplay features, strategies for winning, and frequently asked questions, providing an in-depth exploration of this casino masterpiece. 
Discover the charm of old-school betting with a modern twist and experience the allure of this timeless slot. Ready to try your luck in 7th Heaven? Spin the reels and embark on a journey into classic casino entertainment! 
Theme & Design 
7th Heaven by Betsoft Gaming welcomes players with a classic arcade-themed slot that embraces simplicity. Its layout is a testament to the straightforward nature of the game, devoid of unnecessary embellishments. The symbols, ranging from Red and Blue Number Sevens to Cherries and Bells, evoke the charm of traditional casino slots. However, including the Gem Party icon and Spinning Wheel symbols adds an element of surprise, introducing players to the game's special features. The graphics are impressive and high-quality, adhering to the standards expected from BetSoft.
Gameplay Features 
Beneath its unpretentious exterior, 7th Heaven reveals a range of features that define Betsoft's slots. Incorporating free spins, a wild symbol, and a scatter symbol enhances the gaming experience.
The wild symbol, appearing on reels 2, 3, or 4, completes winning combinations of 7s and doubles the payout. Triggering a winning 7 combo causes the wild icon to expand, covering the entire reel for enhanced winnings.
Additionally, 7th Heaven offers two bonus features. The first is a second-screen bonus triggered by the Four Card Suits symbol, leading to the appearance of the Spinning Wheel. This wheel grants between 7 and 12 free spins, with a bonus suit randomly appearing during each spin, offering rewards equal to the original wager.
The Gem Party symbol, landing on reels 1, 2, and 3, activates the Gem Party bonus feature, providing 7 free spins on special gem symbol reels. This bonus round presents an opportunity to win up to 1,500 credits.
Winning the Game 
Understanding the game's payout structure is essential. With coin values ranging from 0.02 to 1.00 and the option to bet on up to 18 paylines with 5 credits per line, players have flexibility in their wagers. The maximum bet, activated by the "Max Bet" button, can result in more lucrative bonus round earnings. The highest paying symbols are the three differently colored 7s, with the red 7 awarding an exciting 1,000-credit win for a combination of five.
To maximize winnings, follow these tips: 
explore the "View Pays" button, providing insights into winning combinations and payouts;
use of the "Max Bet" option can enhance overall earnings during bonus rounds;
enjoy the Gem Party bonus features.
FAQ 
Can I play 7th Heaven slots on my mobile phone? 
You can play 7th Heaven online slot for free and real money on your Android, iOS, and Windows smartphone and tablet without any issues.
How can I play 7th Heaven for real money? 
If you're tired of spinning the reels for fun in a demo version, you can create a Red Dog Casino account, deposit, and enjoy the slot game for real money.
What is the maximum payout in the Gem Party bonus feature? 
The Gem Party bonus feature can yield up to 1,500 credits.
Conclusion 
7th Heaven at Red Dog Casino is a testament to BetSoft Gaming's commitment to delivering a classic yet engaging slot experience. Its simple yet captivating design and industry-leading graphics set it apart in the competitive world of online slots. The game's array of features, including free spins, wild symbols, and bonus rounds, excite the traditional gameplay.
Players seeking the charm of old-school betting with minimal distractions will find 7th Heaven the perfect choice. Whether on Windows, Mac, or Linux, the accessibility of this slot without the need for downloads ensures a seamless gaming experience. As the reels spin, 7th Heaven beckons players into a world where classic simplicity meets modern excitement, making it a must-try for seasoned players and newcomers alike.