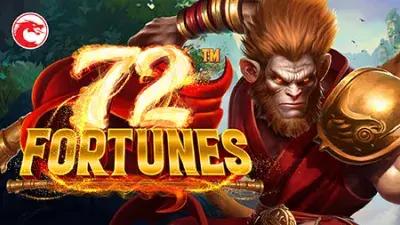 Step into a world brimming with luck, opulence, and prosperity with the 72 Fortunes slot machine. As one of the standout offerings at Red Dog Casino, this game promises not only the thrill of winning but also a delightful journey into a universe filled with rich Asian cultural motifs.
Upon firing up 72 Fortunes, players are instantly greeted with vibrantly colored reels, adorned with symbols synonymous with fortune and luxury in Asian culture. From golden ingots to intricate dragons, each symbol has been crafted with great detail, providing a feast for the eyes. But it's not just the graphics that captivate; the gameplay ensures that players are always on their toes, eagerly anticipating the next spin.
Highlights of 72 Fortunes include:
Progressive Jackpot: An ever-increasing pot of gold, offering players tantalizingly massive wins.
Free Spins Feature: Spin the right combination, and enjoy extra chances to win without dipping into your pocket.
Golden Wilds: These special symbols can multiply your winnings and substitute other symbols to create winning combinations.
Engaging Soundtrack: Traditional Asian tunes that enhance the immersive experience.
The slot machine mechanics are seamless, ensuring that players can enjoy uninterrupted gameplay. 72 Fortunes manages to strike a perfect balance between traditional slot mechanics and unique bonus features, making it ideal for both the casual player and the seasoned slot enthusiast.
Red Dog Casino's library of games is both vast and varied, but 72 Fortunes stands out as a particularly shining gem. It offers an intricate blend of cultural richness with the excitement of potential big wins.
In summary, 72 Fortunes is not just another slot in the vast online casino universe. It's a vibrant, culturally rich journey with a dash of fortune and luck. If you're in the mood for an Asian-themed adventure with a chance to strike gold, this is your game. Dive in and let the fortunes favor you!