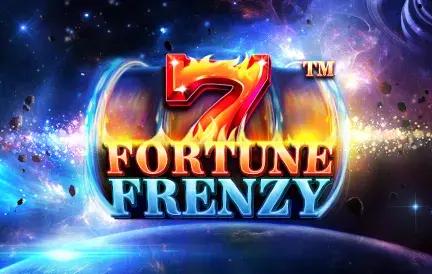 7 Fortune Frenzy by BetSoft is a dynamic online slot that packs a punch with its fast-paced gameplay and enticing rewards. This game may feature just 3 reels and a single payline, but it's not your ordinary classic slot. 7 Fortune Frenzy introduces a bonus 4th reel that adds a thrilling twist to your gaming experience.
The fourth reel isn't just for show; it's a game-changer. It can deliver instant wins, respins, or multipliers, making each spin an exhilarating adventure. And the ultimate goal? A tantalizing top jackpot worth 2,368 times your stake. With medium volatility and an RTP of 96%, 7 Fortune Frenzy balances risk and reward, offering an exciting journey for newcomers and experienced slot enthusiasts.
As you delve into the heart of the game, you'll be using a single active payline to create your winning combinations, with betting options ranging from a mere $0.06 to a more daring $30. The beauty of 7 Fortune Frenzy slots is that, with the right combination and the highest multipliers, you have the chance to walk away with that coveted top jackpot of 2,368 times your stake. It's an enticing opportunity in a game where the stakes are just right, offering a rewarding gaming experience that's both thrilling and balanced. So, let's dive into the 7 Fortune Frenzy slot review and explore the frenzy of fortunes awaiting you in this exhilarating slot.
Design and Visuals 
In 7 Fortune Frenzy, the number seven takes center stage, and it's not just a title—it's a visual spectacle. The seven is the show's star, serving as the top symbol and the primary source of inspiration throughout this slot machine adventure.
The attention to detail is evident in the three premium symbols, each presenting the Seven in various captivating forms. You'll encounter the Seven in gleaming silver, radiant gold, and fiery incarnation. These premium symbols are a visual treat, reflecting the game's dedication to providing an engaging and dynamic gaming experience.
The low-paying symbols, represented by the Two Bar and Three Bar logos, may be less flamboyant. Still, they complement the overall visual design while ensuring clarity and ease of gameplay. The visuals in 7 Fortune Frenzy combine classic elements with modern flair, creating a visually appealing and immersive slot experience.
Core Mechanics and Gameplay 
It's time to play 7 Fortune Frenzy for real money! 7 Fortune Frenzy at Red Dog Casino offers a unique gameplay experience with its 3+1 reel structure. The initial three reels operate independently, providing an opportunity to form regular winning combinations on the single active payline. However, it's important to note that this game includes blank positions among its symbols, adding an element of surprise. 
The excitement escalates when a winning combo appears on the active payline, triggering the relevance of the 4th bonus reel. Here's what this bonus reel brings to the table. 
Direct Win Multipliers: Instant payouts of 8x or 18x the round's stake are awarded on top of your current win. 
Win Multipliers: The 4th reel can apply to win multipliers of 2x, 5x, or 8x to boost the overall round win. 
Respin Feature: A respin is granted, causing all four reels to spin again to replicate the winning combination on the first three reels. A multiplier of 1x to 4x can enhance the respin's potential. 
Additional Respins: You can land more Respin symbols on the 4th reel, enabling up to 5 respins. 
7 Fortune Frenzy elevates classic slot gameplay with a thrilling bonus reel, promising remarkable wins through multipliers and respins. Master these mechanics, and you'll experience a true fortune frenzy during your gaming sessions.
FAQ 
How do I trigger the bonus features in the game? 
Bonus features are triggered when a winning combination appears on the active payline, making the 4th bonus reel relevant.
What is the maximum win potential in the game? 
7 Fortune Frenzy offers a top jackpot of 2,368 times your stake.
Is 7 Fortune Frenzy compatible with mobile devices? 
7 Fortune Frenzy is designed to be fully compatible with mobile devices. Whether you have a smartphone or tablet, you can enjoy this game on the go. HTML5 technology ensures that the slot runs smoothly on various mobile platforms, allowing you to experience the thrill of the game anytime, anywhere. Whether you're waiting for a bus or relaxing at home, 7 Fortune Frenzy is readily accessible for mobile gaming enthusiasts.
Final Thoughts 
7 Fortune Frenzy by BetSoft may appear as a simple 3-reel, 1-payline slot, but its bonus 4th reel transforms it into an exciting gaming adventure. This extra reel can grant instant wins, respins, and multipliers, leading to a substantial top jackpot of 2,368 times your stake. With medium volatility and an RTP of 96%, the game finds a harmonious balance between risk and reward, catering to beginners and experienced slot enthusiasts. Playing 7 Fortune Frenzy online slot for free or putting something on the line promises an unforgettable experience either way!