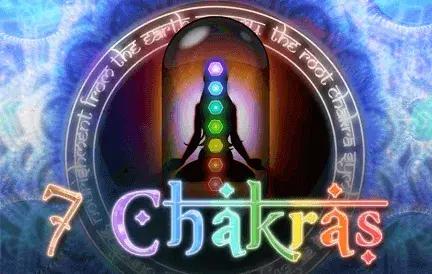 Embark on an ethereal journey with 7 Chakras by Saucify, where spiritual realms and gaming thrills converge. On a vibrant 5x3 slot grid, you're presented with dazzling 49 paylines, each pulsating with cosmic energy and potential. Delve into a vibrant spectrum of colors, mystic sounds, and symbols representing the sacred chakras of the human body. More than just visuals, they become your gateways to introspection and compelling rewards.
As the chakras resonate with each spin, they seek alignment within and beckon the allure of lavish rewards. Ready to explore the vast expanse of this universe? Channel your inner energies, and let the magnetic pull of the chakras guide you to monumental wins! But first, let us guide you through the inner intricacies of this slot machine in our 7 Chakras slot review. 
Theme & Appearance 
7 Chakras is a slot game that seamlessly merges spiritual symbolism with top-tier gaming visuals. Drawing inspiration from the seven primary chakras of the human body, each is vividly represented by its distinct and colorful reel symbol. The meticulous design of each symbol speaks volumes about the game's dedication to graphic excellence, ensuring that players recognize each chakra and feel its essence.
The game's enchanting background adds depth to the gameplay – a psychedelic abstract masterpiece that provides a harmonious canvas for the chakra symbols. This rich tapestry, when coupled with the buttery smooth animations, creates a gaming experience that's both fluid and mesmerizing.
Further enhancing the experience is a diverse color palette, ranging from mystic blues and calming greens to fiery reds and royal purples. This vivid spectrum complements the game's appearance, making every spin a visual journey. Lastly, a soothing yet stimulating Indian folk soundtrack will add even more depth and keep you focused. 
Basic Gameplay & Special Features 
7 Chakras beckons with more than just its ethereal charm. Beneath its visual appearance lies a gameplay packed with intrigue and surprises. With one standout feature awaiting your discovery and several special symbols set to change your fortunes, every spin promises a new thrill! 
Now, the basic rules. Wins can be secured from either the left-to-right or right-to-left direction, except for Scatter symbols, which have the flexibility to pay out in any arrangement. Every payline victory gets multiplied by the credits staked on that line. In contrast, Scatter wins are multiplied by the total credits bet. Scatter rewards come as a bonus on top of payline wins. Note: for each active payline, only the highest win (considering both directions) will be credited.
Symbols. Let's begin with the main ones and make our way to special features. 
| | | | |
| --- | --- | --- | --- |
| Symbol Name | X3 | X4 | X5 |
| Red chakra | $ 5 | $ 8 | $ 20 |
| Orange chakra | $ 6 | $ 10  | $ 30 |
| Yellow chakra | $ 7 | $ 12 | $ 35 |
| Green chakra | $ 10 | $ 15 | $ 40 |
| Cyan chakra | $ 12 | $ 20 | $ 60 |
| Blue chakra | $ 15 | $ 30 | $ 100 |
| Purple chakra | $ 25 | $ 40 | $ 250 |
Wild Symbol — In this slot game, the Wild symbol is double high and substitutes for other symbols except the Scatter symbol. Plus, any win with the Wild symbol multiplies your win by two! 
Scatter Symbol — Landing 3 or more Scatters anywhere on the reels launches the Free Spins Ascension feature game. Notice that this symbol does not appear during the bonus round. 
Free Spins Ascension feature — When triggered, you're transported to another screen where you can choose a gem from the lotus flower for each of the 7 chakras. Each gem awards additional Free Spins or a Free Spin Multiplier to boost you in the following bonus game.  
FAQ 
Can I play 7 Chakras without depositing money? 
Certainly! If you want to test the waters, you can play 7 Chakras online slot for free through the demo version. It allows you to familiarize yourself with its unique dynamics and play just for fun. Once you've mastered its rhythm and feel that surge of confidence, you can shift gears and start playing 7 Chakras for real money, turning your gameplay from light-hearted entertainment to adrenaline-pumping action.
What is the top award in 7 Chakras? 
The maximum win per line is 250x.
Is 7 Chakras mobile-friendly? 
Of course! Enjoy 7 Chakras at Red Dog Casino on the go. Our mobile platform makes sure your gameplay is smooth wherever you are. 
It is the End 
7 Chakras slots beautifully combine the oriental theme with top-notch gaming. Its graphics are a vibrant treat, animations flow effortlessly, and the overall visual design exudes a sense of tranquility and wonder. Beyond the aesthetics, the gameplay offers layers of engagement, ensuring players are entertained and rewarded. If you're searching for a game that's as visually mesmerizing as it is fun to play, 7 Chakras stands out as a must-try!