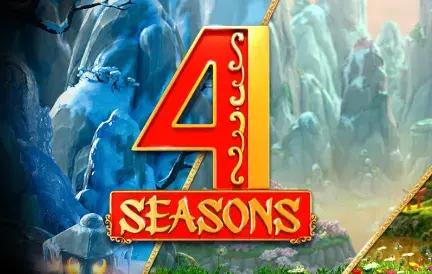 The Chinese Zodiac wheel's representation of the passage of time in 4 Seasons by Betsoft is an amazing journey. A cute 3D avatar is used to represent all animal signs. Each representative animal will have a chance to turn Golden and offer you a 10x return once every 30 spins! The animal indicators on either side of the golden animal turn silver and provide a 5x return. The 4 Seasons slot game has a stunning backdrop that changes with the seasons, block combos intended to maximize your win, Golden Lucky Cat Wilds, and bountiful Yin Yang free spins. As you play 4 Seasons, observe the passage of time! Learn more about game details in the following 4 Seasons slot review.
Graphics & Design                 
As you spin the reels of this weather-themed slot game, you'll notice the seasons changing more quickly than before. It combines Mother Nature with an Asian flair and has calligraphy symbols scattered throughout the reels and a variety of small creatures. 
Twelve animals—a tiger, a rabbit, a rat, an ox, a dragon, a goat, a snake, a rooster, a horse, a dog, a monkey, and a pig—represent the twelve signs of the Chinese zodiac. Each sign is depicted as a cuddly animal with enlarged eyes, protruding ears, and a happy expression. The golden  Chinese Yin and Yang symbol is one of the game's additional icons. There is also a golden cat that behaves erratically. 
Core Gameplay          
Whether you play 4 Seasons online slot for free or for real money, you still need to know the basic rules and core gameplay.
A unique Seasonal Wheel from 4 Seasons slot machine displays pictures of the twelve zodiac animals. Every 30 spins, the wheel in the lower left corner of the screen, underneath the reels, rotates, simulating the passing of a month and designating the animal it falls upon as "golden." This symbol will now have a 10x multiplier, allowing you to increase your payout significantly. Animals to the left and right of the golden symbol turn into "silver" and increase in value by a factor of five.
In addition, the three creatures to the left and right of the silver creatures pay a 2x multiplier. The golden animal will be surrounded by a golden string, the silver animals by a silver cord, and the bronze creatures by a bronze ring, making it clear which animals have multipliers attached. 
The background of the entire game changes every 90 spins. The player can experience all four seasons while playing, from winter snowdrifts through autumn blossoms and summer solstice. However, the day counter is not advanced during free spins. Counterclockwise motion is used to turn the seasonal wheel. 
In-Game Extras       
If you decide to play 4 Seasons for real money, you need to learn more details, especially regarding bonus features that can boost your rewards.
Fascinating surprises are waiting for you everywhere in 4 Seasons. The game's representation of the passage of time and the changing of the seasons is one of the best, but a few more features need attention. 
Bonus Round 
The game doesn't have a Bonus Round, but it has some cool features like Free Spins, which we'll describe in the next section. For instance, expanding Stacked Wild to 2, 3, 4, or all 5 reels greatly multiplies the wins. 
Scatter Symbol 
The scatter works in a manner similar to how it works in most slots. It takes the form of the Yin & Yang symbol, and every time you see three or more of them, you'll get free spins. Eight free spins are awarded for three scatter symbols, twelve for four, and twenty for five. More Free Spins may be triggered during this round. 
Jackpot 
You can set your stake in 4 Seasons by selecting a coin value between 0.02 and 1.00 and a bet level between 1 and 5. Your minimum wager is $0.60, and your maximum wager is $150. Both casual gamers and high rollers can enjoy the game, although high rollers will likely benefit from its enormous maximum wager. 
With so many multipliers, free spins, and stacked wilds, you can guess how many chances there are for a significant payoff. In fact, the jackpot in the game is an astounding $750,000, which might make you keep spinning for a whole year. 
FAQ                    
Is 4 Seasons at Red Dog Casino mobile-friendly?                    
Yes, 4 Seasons can be played on any mobile device, both full and demo versions.
What is 4 Seasons RTP rate?                    
The 4 Seasons slot game RTP rate is 95.3%. 
Do 4 Seasons slots have an Autoplay mode?         
Yes, the autoplay mode automatically spins the reels, and the player is not required to use any buttons to continue playing.  
Bottom Line                    
The incredible variety of multipliers offered maximizes your chances of striking it rich and leaving with money. There are 35 fixed paylines for you to try your luck on, and the eye-catching artwork and fascinating soundtrack are just two more incentives! You can choose a coin value that works for you, whether you are a novice or an experienced player with a solid track record. You can play at a level and budget that suits you with bets ranging from $0.02 to $1.4, or you can even play just for fun with demo mode on. Remember to test the mobile and tablet versions of the game, even though you will be able to experience the game and graphics in all their grandeur only on the desktop. Never before has it been so simple to get cash on the go!