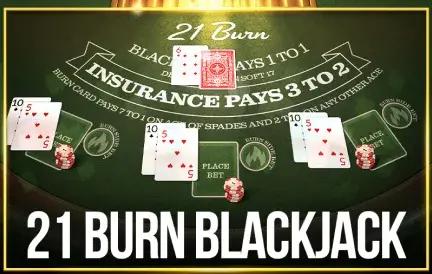 For those seeking a fresh and exhilarating approach to Blackjack, look no further than 21 Burn Blackjack by Betsoft. This innovative variation of the beloved card game has quickly caught the attention of casino aficionados and is a glowing addition to Red Dog Casino's diverse portfolio.
Betsoft, known for its trailblazing games, has injected 21 Burn Blackjack with a unique feature that allows players to "burn" their second card for a chance at a different one. This strategic element introduces a whole new layer of excitement and decision-making, setting it apart from traditional Blackjack games.
Highlights of Betsoft's 21 Burn Blackjack include:
The distinctive "burn" feature, allowing players to exchange their second card.
An immersive live dealer option, enhancing the game's realism and interactivity.
Crisp graphics and smooth animations that capture the essence of a high-end casino experience.
The burning question (pun intended) for many players: To burn or not to burn? This added layer of strategy gives seasoned Blackjack players a fresh challenge and newcomers an intriguing twist. Moreover, the live dealer feature, always a crowd favorite, ensures that players are transported straight into the heart of casino action. Engaging with the dealer, making real-time decisions, and experiencing the thrill of each hand unfold in this interactive setting makes 21 Burn Blackjack a captivating play.
To conclude, 21 Burn Blackjack by Betsoft at Red Dog Casino is an innovative take on a timeless game. Its unique burn feature, combined with the authentic live dealer experience, ensures every hand dealt is loaded with potential and excitement. Whether you're a Blackjack enthusiast or someone looking for a fresh card game challenge, 21 Burn Blackjack is the fiery twist you've been waiting for. Dive in, feel the heat, and may the odds be ever in your favor!