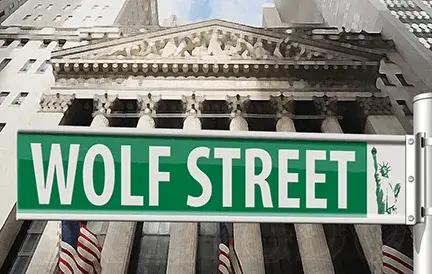 Wolf Street Slot at Red Dog Casino ventures deep into the intoxicating world of high finance and wild parties. Embracing the spirit of the iconic movie, Wolf of Wall Street, this game combines the adrenaline rush of trading stocks with the allure of strip clubs. Saucify, the creative minds behind this online slot, have concocted an experience that's both thrilling and unique, ensuring players an unforgettable ride. In this comprehensive Wolf Street slot review, we'll delve into the intricacies of Wolf Street by Saucify, exploring its captivating theme, innovative gameplay features, and the art of winning in this high-stakes virtual universe.
Theme and Design
Imagine stepping onto the bustling streets of New York's Wall Street, where fortunes are made and lost in the blink of an eye. Wolf Street effortlessly immerses you in this world of ruthless ambition and lavish excess. The game's backdrop paints a vivid picture of financial districts adorned with symbols of wealth - credit cards, dollar bills, expensive shoes, and cigars. The inclusion of strip club elements alongside stock trading imagery adds a daring and unconventional twist, making Wolf Street a standout in the realm of online slots. The graphics are sharp, the animations are smooth, and the soundtrack captures the electric energy of Wall Street, creating an immersive atmosphere that pulls you in from the start.
Gameplay Features
Wolf Street boasts a classic layout with five reels, three rows, and 25 adjustable paylines. Players have the freedom to customize their bets, with coin denominations ranging from 0.01 to 0.25 USD. With all paylines activated, the game offers a minimum bet of 0.25 USD, catering to players of various budgets. The maximum bet per spin is set at 31.25 USD, providing high rollers an opportunity to chase substantial wins. Special symbols and features only add to this excitement.
Wild symbols, represented by a suave stockbroker clutching a stack of cash, are pivotal in enhancing your chances of winning. While they don't yield specific prizes, they boost your hit rate significantly, paving the way for more winning combinations.
The game features several Scatter symbols, adding excitement to your gameplay. The neon pink stripper sign is the gateway to the Free Spins feature. Landing three or more of these symbols anywhere on the reels awards free spins. Three Scatters grant 12 free spins, four offer 18, and five neon signs trigger an exhilarating round of 20 free spins. What's even more thrilling is the ability to re-trigger this feature during free spins, leading to an endless loop of extra spins. The red high-heel shoes Scatter increases the amount won by the total number of credits wagered.
Additionally, Wolf Street introduces the Rich Pickings Bonus Feature, activated by landing three or more computer screen symbols. In this engaging bonus game, players choose a stock, earning instant wins based on its performance. The potential for substantial payouts adds extra excitement to your gameplay.
Winning the Game
The key to winning in Wolf Street lies in understanding the game's unique features and leveraging them to your advantage. Maximizing your bet by keeping all paylines active ensures you have the best chance of landing winning combinations. Wild symbols significantly enhance your hit rate, increasing the frequency of your wins. Triggering the Free Spins feature offers an excellent opportunity for extended playtime and substantial payouts, especially with the potential to re-trigger the feature multiple times. In the Rich Pickings Bonus Feature, strategic stock choices can lead to significant instant wins, enhancing your overall earnings.
FAQ
Can I play Wolf Street online slot for free before wagering real money? 
Yes, many slot review websites offer a demo version of Wolf Street, allowing players to experience the game's mechanics and features without risking Woolf Street for real money. This is a great way to familiarize yourself with the game before diving into real-money play at Red Dog Casino. Oh, and don't forget to try both versions on your mobile device – it is a great opportunity to enjoy your favorite slot on the go!
Can I re-trigger the Free Spins feature in Wolf Street?
Yes, the Free Spins feature in Wolf Street can be re-triggered. During the Free Spins round, landing additional neon stripper sign symbols on the reels will grant you extra free spins. This re-triggering mechanism allows you to extend your free spins session, increasing your opportunities for substantial payouts.
What is the RTP percentage of Wolf Street? 
Wolf Street slots offer players a fair Return to Player (RTP) percentage of 96.05%. It means that, on average, the game returns 96.05% of the wagered money to players over the long term. A higher RTP indicates better odds for players, making Wolf Street a favorable choice for those seeking balanced gameplay for fun and potential wins.
Conclusion
Wolf Street slot machine emerges as a captivating and dynamic online slot that marries the world of high finance with the allure of the nightlife scene. Its unique theme and innovative gameplay features create an engaging experience for players. With the potential for substantial payouts, especially during the Free Spins and Rich Pickings Bonus Features, Wolf Street offers an exciting venture into the world of online slots. 
Whether you're a casual player seeking entertainment or a seasoned gambler chasing significant wins, Wolf Street by Saucify promises an exhilarating gaming experience bound to leave a lasting impression. Dive into the adrenaline-fueled world of the Wolf Street slot game and let the reels spin you toward the thrill of victory.